Cheesed off! A Belstone pub has changed the name of the classic British cheese and bread meal on their menu - to PloughPERSON's
Monday 28th March 2022 7:12 pm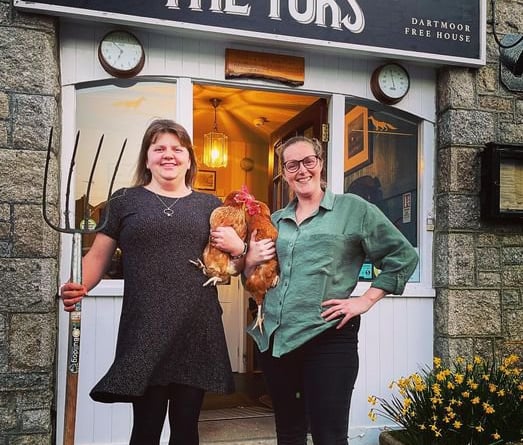 Women plough too! Tor Inn employees pose in reaction to social media storm
Subscribe newsletter
Subscribe to our email and get updates right in your inbox.
A BELSTONE pub has sparked online controversy this week after the renaming of it's well-known Ploughman's dish 'Ploughperson's.'
The Tors Inn pub at Belstone no longer lists the classic cheese and bread combo on its menu, instead now opting for a gender-neutral title that many have slammed as attempting to cancel British tradition and 'woke' in an online social media backlash ('woke' being a popular slang term commonly defined as demonstrating superficial awareness on social and political issues often pertaining to human rights).
The name was originally changed two years ago but a Twitter user posted a picture of the menu last weekend which qucikly went viral. One person said in response:'Unbelievable. That sounds like multiple people now! Why not even make it the Plougher's lunch if it was so offensive to mention the word man?'
Another Twitter user said: 'Boycott that pub! History and heritage should not be changed. Bad things we learn from but don't erase identities even if it's traditional food dish names.
Another responded on the popular platform saying: 'The Plougher's Lunch would have been more acceptable, unless they are deliberately trying to stir up controversy.'
In response to the social media backlash, on Sunday the Tors Inn took to Facebook and posted a picture (reproduced right) of local farmer Michaela Reddaway (left) and bar manager Kelly Gilbert (right) posing outside the front of the establishment with a pitchfork and two chickens with a caption reading: 'Women plough too.'
Speaking on Monday, landlord of the Tors Inn Dicky Harrison said: 'It seems our 'Ploughperson's menu choice caused quite the storm! We put it on the menu two years ago and it was really just a bit of fun and something to catch the eye.
'We are a Dartmoor free house and as such we can have a bit of fun with what we offer and more importantly sell local products. It was just meant to be tongue in cheek; we didn't expect such a reaction.
'However, we do also live in an active farming community and we renamed the plate in a nod to the amazing ladies who work the land here. In reality, women plough too. We're not trying to make a statement, we're just trying to have a bit of fun.'
Comments
To leave a comment you need to create an account. |
All comments 0