Kate's artistic eye for the Tamar Valley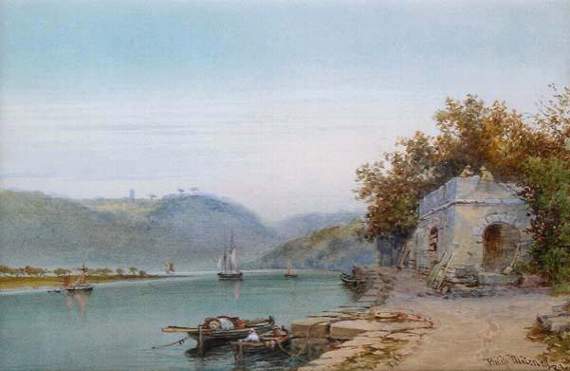 Subscribe newsletter
Subscribe to our email and get updates right in your inbox.
THE natural beauty of her surroundings and a passion for history and art has led to a Gunnislake woman collecting paintings on a subject obviously close to her heart — the Tamar Valley.
Kate Threlfall, a volunteer trustee for the Calstock Parish Archive Trust, is always, along with her husband Mike on the outlook for early paintings by artists, famous — and not so famous — which depict scenes of her beloved valley.
With a degree in history from Newcastle University and a career as a solicitor, research and old documents hold a fascination for Kate.
She came with Mike to Gunnislake in 1973 and asked local rector, the Reverend Gordon Ruming if he had any documents of local history; he brought out all the births, deaths and marriages registers and the Calstock Church seating plan and her local research opened a new chapter in her life.
Having left the area with her family in 1983 to live in east England she and Mike returned in 2012. Now retired she became an active volunteer with the parish archive, busy updating its website (www.calstockhistory.org.uk) and its social media pages, writing books on local subjects and giving 'walks and talks'. However it has also become a bit of a hobby to track down, with Mike, potential Tamar Valley paintings on on-line auction sites.
Explained Kate: 'What you have to remember is that these paintings in the 18th and 19th century are before photography and they provide an invaluable insight in to the history of the valley. The scenes these artists sketched and painted and the topography of the river and the valley is not exactly like it is today. Nowadays the river has all been banked up and straightened out and there are no longer many coves and inlets.
'In the 18th and 19th centuries artists were seeking out the romantic and picturesque to paint, and the Tamar Valley soon became a favourite place to visit. The river, with its rocky crags and woods, was visited by the famous Joseph Turner in 1813, and he made numerous sketches around Gunnislake, and indeed painted a major oil painting using some of the basic topographical features around Newbridge.
'There was a romantic movement flourishing at the end of the 18th century where paintings have very romanticised landscapes. These helped to make the Tamar Valley at the time popular with tourists.'
Other artists were also attracted by winding river and lush vegetation — Philip Mitchell (1814-1896) was born in Devonport but lived and painted in Cornwall. He was active in the 1860s and painted two large exhibition standard watercolours of Gunnislake Lock and Canal, from north and south.
An artist who came to live in the parish was Thomas Campbell Bennett (1858-1948), who lived for many years at Hingston House in St Ann's Chapel.  He painted in Devon and Cornwall, including a watercolour of Clitters Mine and the River Tamar. Other notable works were by William Payne, a military surveyor based in Plymouth in the 1780s, and there are also sketches by Edward Lear (1812-1888), the famous English artist, illustrator, musician, author and poet.
However, it was a watercolour  by Nicholas Matthew Condy (1816-1851) that was the most satisfying 'discovery' for Kate and Mike when they 'struck gold'.
Condy and his father, Nicholas Condy (1793-1857), painted at Cotehele. Nicholas Condy produced a book of engravings of paintings of the interiors of Cotehele. One of Condy junior's most well known works is a view of Queen Victoria's visit to Cotehele in the 1840's.
'On an on-line auction we saw a painting that came up of ships in the Hamoaze (Plymouth). It came with two other unseen pictures, all unframed, one of the River Thames and a third watercolour which was Cotehele — it was the identical scene at Cotehele Quay, without the royal ship and the crowds cheering the queen.
'I said to Mike I think we've struck gold. Later I went down to the quay and looked at the painting and you could still recognise the buildings which were all there. It was almost the same.'
Condy always liked to put a little boat in the foreground which draws the eye in both Kate's version and the later one with the visit of Queen Victoria to Cotehele on August 21, 1846.
Although so far her Tamar Valley collection is small and very much a niche market and may not be of great value the 'treasure hunt' continues for Kate and Mike.
'All of history is a treasure hunt — like a detective story,' said Kate. 'These paintings are an important part of the historical record and I love piecing things together. My rule of thumb is that I would not buy anything that I would not enjoy seeing on my wall.'
Rachel Hunt, the house and collection manager at Cotehele House (now a National Trust property) told the Times: 'Kate has an enviable collection for anyone with an interest in the Tamar Valley. Pictures such as hers form a valuable topographical resource, even when they provide a slightly distorted view of the landscape we recognise today.
'One such picture, showing Queen Victoria's visit to Cotehele Quay in 1846, presents a happy scene of a community united in anticipation of the arrival of their monarch. Hopefully the Queen enjoyed her visit, despite finding Cotehele House "dull and cheerless". Not the most favourable recommendation!
'Unlike the Queen, artist Nicholas Condy was fanatical about Cotehele. He produced a series of watercolours in the 1830s, which were professionally reproduced as lithographs. These prints formed the basis of Cotehele's first guidebook in circa 1840. They are the best record we have of how the house was presented to its Georgian and Victorian visitors and they continue to define Cotehele's raison d'etre.
'Every time a previously unknown painting emerges, it provides us with a new lens through which to examine the past.'
Comments
To leave a comment you need to create an account. |
All comments 0