Dave goes Transcontinental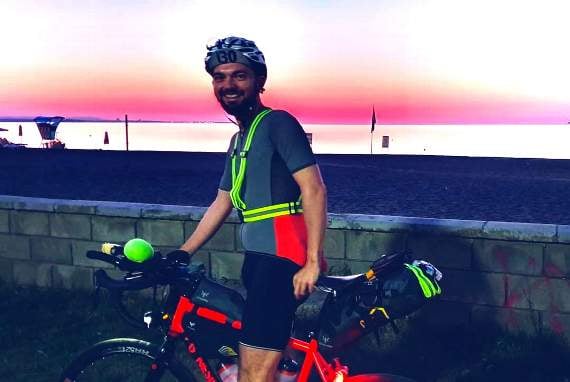 Dave Withers, who took part and finished the Transcontinental race.
()
Subscribe newsletter
Subscribe to our email and get updates right in your inbox.
WEST Devon rider David Withers has excelled in one of Europe's hardest cycling tests.
David, a former Tavistock College pupil and now a solicitor in Bristol, was one of 263 who undertook a gruelling unsupported 2,485 mile trek from eastern Bulgaria to western France.
The Transcontinental race started on July 24 and ended for 32 year-old David in a windswept conditions at Brest 13 days later. The race winner was a 24 year-old German woman Fiona Kolbinger, with Britain's Ben Davies in second place.
Out of the 263 starters only 120 finished and David came in a very credible 44th place.
The Transcontinental is a single stage race in which the clock never stops. Riders plan, research and navigate their own course and choose when and where to rest. They took only what they can carry and consume only what they can find. Four mandatory control points guide their route and ensure a healthy amount of climbing to reach some of cycling's most beautiful and historic monuments.
David told Times Sport: 'I really wanted to complete it under 14 days. It has been incredible, I've never done anything like it in my life.
'I wanted to do a different challenge and I never done a massive bike ride like this. It was a bit of a lottery to get into the race but when I got a place I was determined to do it.'
One of the toughest stages of the route were the steep passes in the French Alps - including the Col du Telegraph, Col du Galibier and Alpe d'Huez. Unlike the famous Tour de France, some of the routes in the Transcontinental were off road, on farm tracks and gravel.
However, perhaps David's toughest test was the last few miles on his last night on Friday, August 9 cycling towards Brest. The previous night he had to sleep on outside on the floor outside some sort of town hall before embarking on the final stage of his journey.
'The weather was absolutely atrocious. Just awful, with gale forced winds and driving rain. I was determined to finish within my target of under 14 days even though I was so tired and drained towards the end.
'When I crossed the line in the pouring rain and it was a real relief to finish to know I had done it. I felt a little emotional even though there were not hundreds of people cheering you on.
'I can't really describe my feelings. I feel so proud to have done the Transcontinental but after that I don't think I will be cycling for a while so I'm going back to running!'
It is not bad an effort for a boy who started cycling in Tavistock on a £10 second hand machine to get his student job at the old Somerfield supermarket on Brook Street; his passion for cycling started form there.
Martin and Lorna Legg of Tavistock Cycles in Paddons Row, Tavistock, had keenly followed David's progress throughout the race. It was Martin who built the cycle for David, especially for the Transcontinental.
He picked up his bike in April. It was made of steel with a powerful hub dynamo for the lights and use for David's mobile phone and sat-nav.
Martin said: 'I think some of the terrain he had to ride along was tough and part of the route was through the Alpine mountains. He is obviously very fit but the amount of mental resilience he has shown is just phenomenal. The race is extremely tough. It's a different test but the riders do do not have the comforts such as sleeping in a bed like the riders in the Tour de France. David would have been riding up to 18 or 19 hours a day, riding late at night and getting up to ride again early morning just a few hours later. It is an incredible effort I take my hat off to him.
David thanked Martin and Lorna at Tavistock Cycles, mum Lin and stepdad Ian and also his partner, Katie, who he says 'has put up with me during the months of preparation on route planning and gear choices that take over your life!'
Comments
To leave a comment you need to create an account. |
All comments 0