Australian world champion proud of his West Devon roots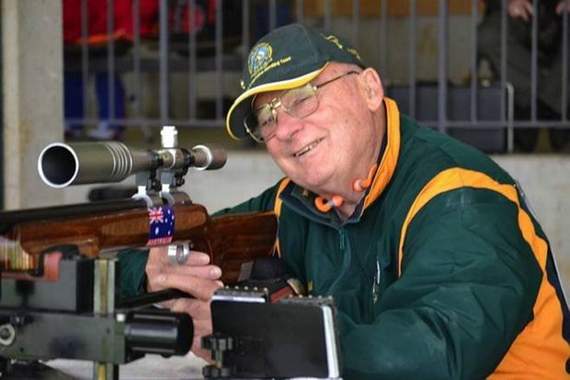 Subscribe newsletter
Subscribe to our email and get updates right in your inbox.
THE fascinating story of an Australian father and son who both went on to become world champions in two different sports, can trace its roots to the West Devon village of Lydford.
John Radford, who lives in Coffs Harbour in New South Wales, contacted the Times to tell of how having 'Devon blood in his veins and British resolve' helped him to emulate his father, Len, to reach his target of the pinnacle of sporting achievement - a world title on behalf of Australia.
What makes his story even more remarkable is that John, representing Australia, won both the team and individual components at the World International Rimfire Brenchrest Championships in 2014 - at the grand 'old' age of 75. Perhaps, even more extraordinary is that the plucky Aussie in 1994 was given by doctors only three years to live.
His life threatening condition was not diagnosed until he was age 65 when it was discovered that he was born with a heart problem with only 40% function, causing him to 'black out' while competing … he, unknowingly, was apparently close to death on thousands of occasions.
However, after undergoing major heart surgery in 2009 John came back to win an Australian shooting title but almost died in 2011 before returning to become a world champion just three years later.
His sporting exploits are not just confined to the rifle shooting range - the 78 year-old can look back on his sporting record with justifiable pride.
There are not many sportsmen whose 'CV' include representing his region, state and country at different activities. John has been a champion junior Pro cyclist, NSW state water skier champion, NSW F1 power boat champion, Australian Boat Seafari champion, and a leading off-shore spear fisherman (free diver) before, at the age of 41 in 1979, turning his talents to centrefire benchrest shooting.
The inspiration for his success came from his father, and admitted that his determination to carry on his father's sporting accolade of a world title sprang from when he died of a brain tumour in 1973.
John told the Times: 'I have never seen a sportsperson quite as talented as my father Len; honestly I have never ever seen him train in his life. He was an absolutely amazing natural sportsman with huge shoes for me to fill! He was truly a hugely inspirational father, so I was driven to succeed in sport even after his early death.'
Len was certainly a hard act to follow.
Lenard Radford, was born at Ingo Brake, Lydford, in December 1904. He was the son of benefactor Harold Thomas Radford who in 1945 willed 500 acres of Lydford Gorge to the National Trust.
During the First World War, Harold billeted at Ingo Brake, 14 wounded Australian soldiers, tough farmers and horsemen from the outback, while they recuperated from battles on the Western Front. Their presence inspired young Lenard, who was educated at Kelly College (his name is recorded on the cricket XI honour board in 1921).
With an invitation from his Aussie friends Len sailed to 'Down Under' in 1925 to become a boundary rider and jackeroo on a 240,000 acre, remote outback sheep ranch in New South Wales.
He later joined the North Bondi Surf Life Saving team in the late 1920s where he witnessed a terrible shark attack on a swimmer out in the surf.
John said: He immediately, with another lifesaver, dived in and swam out and dragged the hapless victim from the jaws of the huge shark, bringing him back to the beach; however the victim had died from huge blood loss.
Incredibly, 50 years later in 1980, John himself, along with another man bravely pulled out of the sea and rescued a man and wife in turbulent seas at Coffs Harbour.
In 1930, Len returned to Devon for four years and in 1934 met and courted the beautiful young Gwen May, and they fell in love. Len proposed marriage, and wanted young Gwen to return to Australia with him but Gwen, only 18, found the prospect of moving half way around the world too much to contemplate and graciously decided to stay in Lydford and to wait for Len to return and marry; however. that was not to be. 
Len, though, returned Down Under and become a stockman. After a near fatal snakebite he rode to the nearest hospital seven miles away and collapsed at its front steps. After recovering he fell in love with the nursing sister and matron and hospital owner Mona Bradsdshaw. They married in 1936 and their first child, John, was born in November 1938.  
Len went on to great success in the sports store business and led a simply incredible life becoming a world surf life saving champion representing Australia and was regional champion in seven different sports in the 1930s and mid 1940s.
John remains, not surprisingly in awe of the accomplishments of his father, who he remembers, even at the age of 46, winning 100 metre races and long jump events.
Like his father, John became a success, starting his own signwriting business at the age of 19; he progressed into neon and electric signs and had Australia's largest corporate image t-shirt screen printer, employing 42 staff. His endeavours earned him an Australian Small Business Award.
In 1993, when competing for Australia at the Benchrest Rifle World Championships in Finland, John came to England to seek his Devon roots. In a letter to the Tavistock Gazette he asked about his family in West Devon and received about 18 letters of relatives and old friends of his dad — one from his first English girlfriend Gwen, who he was delighted to meet.
Of his achievements John said he can honestly say he can die a very happy man and adds: I am very conscious of my Lydford, Devon, heritage as my late father Len Radford was born there in December, 1904 at 'Ingo Brake'. This British heritage, has been a huge factor in me achieving seemingly impossible goals in life and in sport!'
Comments
To leave a comment you need to create an account. |
All comments 0