Bookshop made welcoming for wheelchair users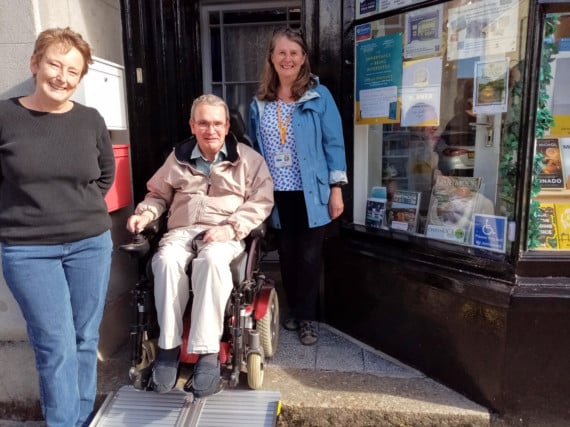 Bookshop owner Kate McCloskey, left, with customer Gilby Taylor and his wife Jane.
Subscribe newsletter
Subscribe to our email and get updates right in your inbox.
A BOOKSHOP owner in Okehampton has fitted a ramp to allow her disabled customers to enjoy browsing her books in person for the first time.
Kate McCloskey, owner of Dogberry and Finch Books in Okehampton, knew she had disabled customers who were unable to get into the shop, mainly due to a 'difficult step'. She had been keen to address this for a long while, but when she asked around for advice the general feeling was that it would not too expensive or difficult to resolve.
Kate was not to be discouraged, however, and turned for help via Facebook. Luckily her plea was seen by Jane Taylor from Belstone, who as a carer for her husband Gilby, who has multiple sclerosis, is well-used to the difficulties of wheelchair access.
Jane and Kate looked at the challenges together and, with a little trial and error, they came up with a solution.
Jane said: 'It was mainly about finding the right type of ramp - and a folding, lightweight aluminium ramp, together with a bell outside to alert Kate when someone wanted access, did the trick!'
Kate said she was surprised how easy and inexpensive it has been to resolve - costing her only about £120 in total for the ramp and bell. The bell is wireless so no wiring was required. 'I am delighted that my disabled customers are finally able to enjoy the shop,' she added.
As a volunteer for Devon Carers, which represents carers in the county, Jane is always happy to chat to other small independent businesses in the town who may want help with creating disabled access.
Jane's husband Gilby was the first person to 'test drive' the new ramp this week. Gilby, who uses a power wheelchair, said he was so pleased to be able to access a bookshop for the first time in many years. It was quite an emotional moment when he entered the shop, with a customer reporting how pleased she was to witness it.
Gilby said: 'Kate has always helped me with my purchases by email previously - but there's just something about being in a bookshop and browsing, something you miss by only being able to buy online.
He added: 'I'm so grateful to Kate for persevering - isn't it great that everyone in Okehampton who uses a wheelchair can also relish time in her shop now, browsing these lovely books too?'
Comments
To leave a comment you need to create an account. |
All comments 0