Ellie's dolls go on show at Made-Well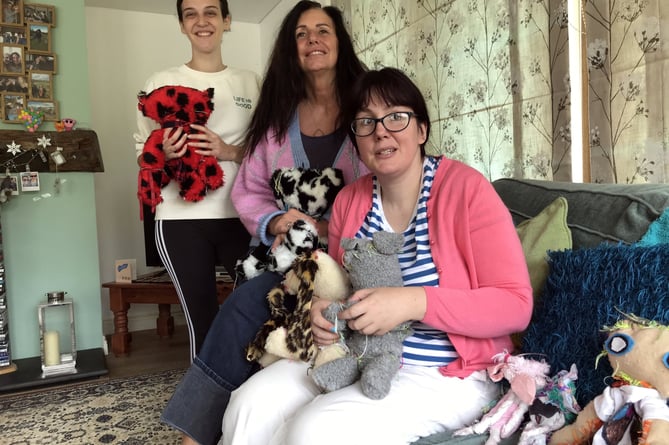 l to r Rhona Griffin Jo Seale Ellie Sutter West Fishleigh Farm Hathrleigh, with dolls which Ellie makes
Subscribe newsletter
Subscribe to our email and get updates right in your inbox.
ELLIE Sutter makes dolls, but they are not any old dolls. With their big round eyes, funky hairstyles and far-out colour combinations, they are true works of art. Somewhere from the rag doll tradition, but not as you know it.
Ellie lives near Hatherleigh, one of four people with different needs who live in a historic house with support workers, a service operated by a company called New Key. It is a good place to live, next door to Made-Well, a centre offering meaningful activity for people with learning and mental health difficulties, with its own animals and gardens as well as a 'big barn' where Ellie does crafting.
And now Ellie is preparing to share her creations at Made-Well. Her dolls are from today on display in the Dennis Bater Bubble at Made-Well – open to all and free to visit. And this is not a 'do not touch the exhibits' exhibition, as the dolls can be picked up and given a squeeze.
As Ellie herself explains, her dolls come from the tradition of therapeutic dolls, give comfort to vulnerable adults, or indeed anyone going through a tough time, just as much as children. They are comfortingly squishy, which is part of their charm.
Ellie, 36, finds expressing herself more challenging than most other people. But through her crafting, she can express herself through her fingers, hand sewing each creation. It has given her confidence.
For Ellie, her favourite day out is a trip to the Hobbycraft store in Exeter, a true gloryhole for crafters. She goes often, with her support worker Jo Seale. She was first inspired to made fake fur therapeutic bunnies from raiding her mum's scrap bag.
'My mum got me a scrap bag of old [fake] furs which was full of different fabrics. This is a fake sheep's wool and this is a leopard print,' she explains, as she shows off one of the first squishy creatures she created, a rabbit with a fake sheep's fur body and floppy leopard print ears. 'I made this out of my scrap furs,' she added.
Other creations have followed, filling Ellie's room at the farmhouse. Her dolls, usually made from felt, are partly inspired by the Split Minds dolls made by a team of husband and wife crafters from Tallinn in Estonia, which she discovered on the internet.
With their crosses for eyes, they have a quirky appearance which appeals to her, and which she has brought into her own work.
'My Split Minds dolls have helped me, when I have lost family members, grandparents and pets,' said Ellie. 'These therapeutic animals have helped me with stress and helped me feel happy again. My animals are like pets, so I am not selling them.'
That said, she has given several to her little nieces and housemates.
She is also interested in a craze for something called Uglydolls. Support worker Rhona Griffin got one for Christmas and is going to bring it in to show Ellie. 'One day, I want to branch out and make my own Uglydoll,' said Ellie.
As Ellie's support worker Jo explains, Ellie has found a true outlet for her creative talents through making her dolls.
She has got on so well she is now working towards a sewing techniques qualification,which she is currently undertaking at Made-Well. Her next ambition is to learn to use a sewing machine.
'It really is her thing,' said Jo. 'I think also since she started doing the AQA [qualification] that is really started to bring on her confidence and there are no time pressures because it is in stages.
'The fact that she is really learning through sewing techniques is really good for her.'
Comments
To leave a comment you need to create an account. |
All comments 0