Gilby's Belstone Tor epic raises £7,000 for rescue charity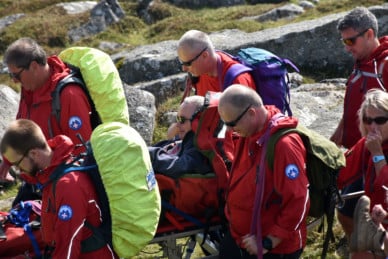 Flashback to September when NDSART members carried Gilby Taylor up Belstone Tor.
Subscribe newsletter
Subscribe to our email and get updates right in your inbox.
A TRIP of a lifetime for Belstone local Gilbert Taylor has prompted nearly £7,000 worth of donations to the North Dartmoor Search and Rescue Team, which helped the disabled man achieve his dream of reaching the top of Belstone Tor.
In September, Mr Taylor, who suffers from multiple sclerosis (MS) and uses a wheelchair, was carried to the top of the tor by the North Dartmoor Search and Rescue Team so that he could see the view.
His adventure won the hearts of the British public nationwide after a BBC Spotlight report was viewed by thousands online.
Mr Taylor's wife Jane said: 'The post [of the report] has now had a million views.
'It's mad! It's got 1,800 shares and I can't actually remember how many thousands of comments, I've lost track.he added: 'What's incredible is the comments are just amazing. People saying, "I've been really down and depressed but I've seen this and it's inspired me to get out." Just people saying what an amazing example of the community getting together to do something.
'What's absolutely wonderful as well is the amount of money it's raised for the rescue team which is beyond our wildest expectations.'
Mr Taylor's adventure was also broadcast on BBC Breakfast. Following on the back of this publicity Mr Taylor and his wife decided to raise money for the rescue team themselves. The couple set up a Just Giving page and organised a host of fundraising activities.
Mrs Taylor said: 'My niece works at a garage and she showed the film [of Mr Taylor's trip] at lunchtime to her colleagues and then they had a whip round afterwards.
'To raise some money, I've been making sweets, fudge, chocolate sweets and things like that to sell. We've done a raffle at The Tors Inn for a Christmas hamper, and the [search and rescue team] had a stall outside The Tors in August to raise awareness of the event. We've been doing all sorts of things.'
Mr and Mrs Taylor moved to Belstone three years ago and, once a keen hiker, Mr Taylor expressed a wish to visit Belstone Tor, which he could see from his window. However, his mobility issues meant he was unable to make the trip. The closest he could get was the Nine Maidens Stone Circle in his 4x4 mobility buggy.
Following some lockdown blues, Mrs Taylor decided to surprise her husband and arranged for the North Dartmoor Search and Rescue Team to carry Mr Taylor to the top of the tor.
On the day of the expedition, Mr Taylor made his way to the Nine Maidens Stone Circle and was transferred to a Matford Land Rover by the rescue team. He was then driven to Irishman's Wall and around the back of Winter Tor, before he was carried on a stretcher to the top of Belstone Tor in the final leg of the journey. The whole event was captured on video.
Once at the summit, a flare was released for friends and family, all crowded in the Taylors' garden, to see and Mr and Mrs Taylor had a well-deserved cup of tea and enjoyed the view.
'It was just beyond kind,' Mrs Taylor added. 'Not only did [the search and rescue team] agree to do it without hesitation, but on the day they were just so incredibly amazing. All they wanted to do was to make it a special day for Gilbert and that's exactly what they did in bucketloads.'
Next September, the Taylors hope to release another flare from the top of Belstone Tor to celebrate the first anniversary of Mr Taylor's adventure.
Mr Taylor was diagnosed with primary progressive MS in 2009, which is the only form of the disease for which there is no treatment and is characterised by a slow worsening of symptoms.
MS is an autoimmune disease which affects the brain and spinal cord and causes symptoms such as difficulty walking, numbness or tingling in parts of the body, muscle spasms and problems with balance and coordination.
For more information about Mr Taylor's trek or to donate, visit www.justgiving.com and search for 'Gilbert's Big Belstone Tor Challenge'.
Comments
To leave a comment you need to create an account. |
All comments 0