Okehampton Muay Thai champion Christi coaching leading lady in Knockout role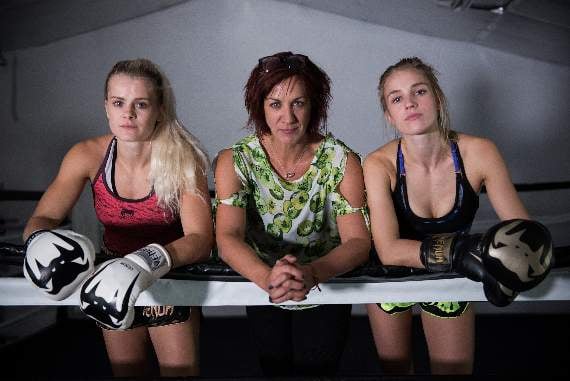 Okehampton's Muay Thai Kickboxing champion Christi Brereton, with film director Philippa Waddell and actress Leona Clarke. Christi will be training Leona for a pitch for major funding for a major drama centred around Muay Thai Kickboxing. Photo by Juliette Mills.
()
Subscribe newsletter
Subscribe to our email and get updates right in your inbox.
A MUAY Thai kickboxing world champion from Okehampton is preparing to coach the leading lady in a pitch for a major film set around her sport.
Two-times world champion Christi Brereton was approached by film director Philippa Waddell, of Exeter-based Wildhorse Films, to play a crucial role in creating gritty drama The Knockout.
The plot centres around a girl called Tori, who fights her way out of a life in the care system and finds fulfilment as a kickboxer.
Christi, 26, will be training actress Leona Clarke at the gym she runs in Okehampton for a short 'taster' film to entice potential investors. Christi may also act as a body double in some fight scenes.
Philippa and experienced collaborators are seeking crowdfunding for what is called a 'proof of concept' film through a pitch on the website indiegogo.com and have so far raised £1,227 towards their total of £30,000. The appeal closes on December 12.
Christi said she was looking forward to putting Leona, who will play Tori in the film, through her paces.
'I've met her already,' she said. 'She's young, a couple of years younger than me, but you can tell that she is very driven. She picks things up very easily and she's determined. I'm sure she is going to do well. We just have to get the funding and then we can start.'
The training – and some of the filming – will take place at the Muay Thai Kickboxing Gym in Okehampton, where Christi trains alongside her partner, coach Steve Pender.
'She'll be treated like one of us,' said Christi. 'She'll have to undergo a similar training regime to us, which will involve putting in lots of time and effort. We'll be treating her exactly as if she was actually having a fight.'
Christi has been a professional Muay Thai kickboxer since her teens, when growing up in North Tawton she started training in the demanding 'ring' sport blending boxing and martial arts.
'It has taken me a few years to get to this stage. I've been competing in the sport since I was 12 and I've been involved in the sport since I was ten,' she said. 'I'm 26 now and I'm two times Muay Thai world champion and British UK No 1 bantam weight.'
She said her own experience – and that of training Okehampton youngsters in her sport – would help her put across to Leona what it was all about.
'She'll get a taster of how we go up and down and the frustrations that we feel if we are having a bad day,' she said. 'She'll have bruises too, probably, from practising. How long it will take us to get going all depends on her, on how well she can pick things up, to make things look as real as we can. I've got to make sure she performs the techniques correctly to be as realistic as possible.'
She said it was a good time to be portraying the sport on film, as Muay Thai had just been recognised as an Olympic sport.
Comments
To leave a comment you need to create an account. |
All comments 0