Okehampton runner Joseph raises £615 for Parkinson's UK in lockdown event.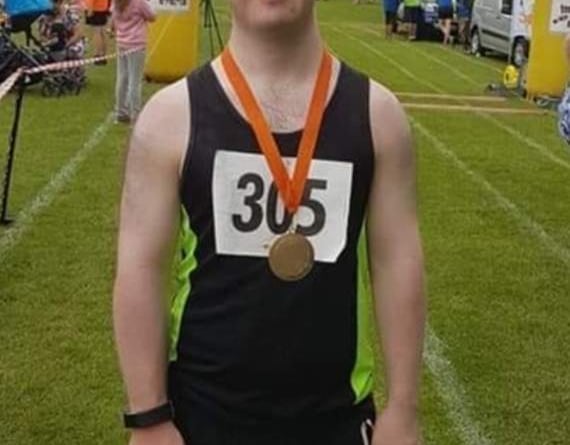 Joseph Lynch.
Subscribe newsletter
Subscribe to our email and get updates right in your inbox.
The club runner, who has Down's syndrome, organised a team to take on the challenge of running a half marathon distance in support of his coach Mags Jarvis, who has Parkinson's.
Mags, a seasoned distance runner, had been due to run the London Marathon last month in aid of charity Parkinson's UK, but her plans were interrupted by the coronavirus crisis.
Joseph was determined to help her raise funds anyway, so formed a team of himself, his mum Charlotte Lynch and Mags to take on an Okehampton Running Club's lockdown challenge to its members to run a half marathon in virtual teams. Setting up a fundraising page for his team, called Step by Step, he has raised an amazing £615 for Parkinson's UK.
Joseph posted on Facebook: 'My coach Mags was training for the London Marathon but it didn't happen because of the coronavirus. I think she is an amazing runner and she has Parkinson's and I have Down's Syndrome.
I want to raise money for Parkinson's to support Mags as she couldn't do the London Marathon this year.'
The lockdown challenge was organised by the club to help members who are struggling to motivate themselves to run alone while the usual club nights in Okehampton are not taking place.
Members were invited to form teams to run the half marathon distance of 13.1 miles — 21 kilometres — which could be completed together or apart.
Team Step by Step split the distance between them each chose their own route for their distance.
The team split the distance between them with Joseph doing a route around Simmons Park in Okehampton. Charlotte meanwhile challenged herself by running up to Rowtor on the edge of Dartmoor, and back, which included an ascent of nearly 200 metres.
Mags ran her 7km on a hilly route near her home in Northlew.
Mags, who coaches Joseph, 20, at the running club, said she was very proud of him.
'Joseph originally started running when he was 18, after getting fitter on his personal trainer,' she said.
'He said that it was not easy to start with but he now finds that he loves running and it helps him to relax.'
Joseph took part in the event off his own bat, raising £615 for Parkinson's UK.
'This is a remarkable achievement and one of which he is, deservedly, very proud,' said Mags.
Teams completed their half marathon distance over the weekend of May 2 and 3 and posted pictures and results on the club's Facebook page.
Overall 43 teams took part in the ORC challenge, running a total distance of 1,169 miles.
Comments
To leave a comment you need to create an account. |
All comments 0