Planners' vision to keep Dartmoor special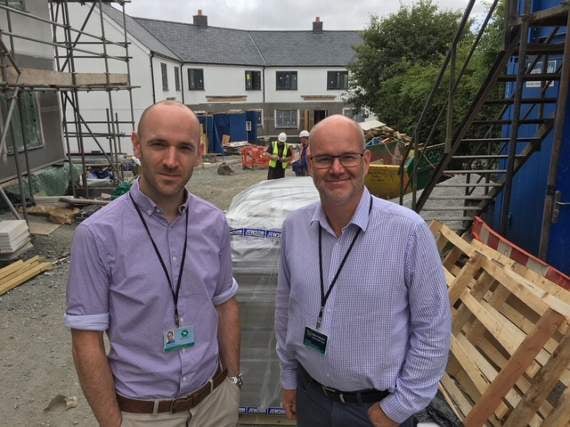 Dartmoor National Park Authority planners Dan Janota and Chris Hart.
()
Subscribe newsletter
Subscribe to our email and get updates right in your inbox.
Continuing his series on Dartmoor, Times reporter John Hutchins talks to Dartmoor National Park Authority chief planning officers Dan Janota and Chris Hart.
BEING responsible for the planning of an area of 368 square miles can be no easy task but Dan Janota and Chris Hart are two men who are well designed, and come with Dartmoor National Park Authority's stamp of approval, to face up to such a challenge.
Following the retirement of Steve Belli in 2017, DNPA decided to not directly replace the post with a single head of planning, but to restructure the planning team. So now it has two new posts - head of forward planning and economy - Dan - and a head of development management - Chris. Between them they are responsible for planning in the national park, including the management of the planning team, the Local Plan and all planning applications.
Both have been with the authority for many years - Dan for 14 and in the case of Chris, 32 and talking to them it is clear they share a passion for an area where they feel privileged to work.
Dan joined straight from university to an assistant post in the planning policy team and qualified as a planner in 2008. He spent a period of time in development management handling planning applications but moved back into the policy team and became the manager of that team in 2014.
He has strong links with Dartmoor, growing up in Moretonhampstead. A widower, Dan spends any spare time with his young son enjoying the outdoors together and playing in a local band.
Chris Hart joined the National Park in 1987, training to be a planner and has pretty much held every post in the section on his way to becoming the head of development management.
'If you are going to be a planner,' said Chris, 'what better place to have as your office!'
His team manage development aspirations from individuals wanting to improve their homes, property developers looking to build houses on Dartmoor to the working communities including those who farm the precious landscape of Dartmoor.
'It's a varied caseload and a challenge to weigh up people's aspirations against the need to protect the special qualities of Dartmoor,' he said.
Varied is perhaps understating it a little. The small team of DNPA planners serve an area that has a population of 34,000 with a diverse landscape of farmland, moorland, towns and villages. It has a remit that includes 2,750 listed buildings, 1,082 scheduled monuments and 25 conservation areas – not to mention handling all the usual planning applications from someone wanting a new conservatory to seven figure investments like the recent extension to Dartmoor Brewery in Princetown. Last year the planning department determined 628 applications.
Chris was anxious to dispel a public misconception that 'planners' are faceless bureaucrats and inflexible when considering applications.
He said: 'Despite the myth that 'nothing happens on Dartmoor' we approve around 90% of all planning applications – the team prides itself on being approachable and finding innovative solutions that are 'good for Dartmoor' – the place and its people'.
'The myth we say no usually comes from those who have had their applications refused but when something is turned down there is always a good and valid reason why we say no.'
'Our purpose is to conserve the natural environment so if you develop it has to be high quality.'
'Our biggest challenge is to ensure we set the highest bar for design and that new development compliments the rich historic environment of our towns and villages.'
Another 'myth' is that planners are unapproachable. Dan and Chris say that if someone wants to ring up and enquire about an application an officer will talk to them — it maybe not that same day but they will get back.
They also take pride in the fact that Dartmoor NPA is one of only a few authorities to still offer planning applicants advice before an application is formally made, so helping to ease the process.
Obviously any system is not perfect but they are anxious to make the it as straightforward as possible but the importance of the rules to follow.
Dan said: 'We want applicants to realise, yes, we do obviously set policies and processes, and stick to them – there has to be a structure. We strive to be consistent in our decisions, and we want the community to understand how we come to make these decisions. Some people want us to be more flexible, others want the outcome to be more predictable and consistent. Unfortunately it's difficult to have both –the right balance.'
'Planners don't look for the problems when considering applications – we know we are dealing with people's homes and livelihoods, but we have to consider how any decision can effect the community at large, and a nationally important landscape, not just an individual. We aim to work with people to find solutions'
Both planners agree that part of the appeal of their job is that they genuinely want to leave a positive influence on a place and environment they both love.
'Some people don't realise that planners want to make a difference,' said Dan.
'When it comes to planning applications it is not a case of "well you win some and you lose some". Actually it's about what Dartmoor wants and needs. It's not a competition, it's not adversarial, it's about working together. We want to conserve and enhance this wonderful area in which we live, not just for our generation but future ones as well.'
'To say no is good sometimes,' adds Chris, 'An example of that is that you could plan for more jobs or increased tourist footfall, which may be good, but at the same time you have to balance that against whether in doing so you spoil the tranquility of the National Park. It's difficult.'
'Dartmoor is not only a stunningly beautiful landscape, especially on the high moors, but it is place to work and live and as planners we are its custodians.'
'Dartmoor National Park is not a place that stands still. It has layers of history across its landscape, and it is a place where people live and work and always have. We as its custodians need to strike a careful balance in looking after Dartmoor's environment, its landscape, wildlife and habitat, its rich archaeology and historic settlement, as well as those who visit, live and work here.'
Dartmoor's community is changing. Like much of the country we are seeing an ageing population, smaller household sizes, and being such a desirable place to live there is a widening gap between incomes and house prices. If Dartmoor's towns and villages are to continue to thrive, some change, within environmental limits, should be supported. That may include, for example, affordable housing in the right places, development of new or existing business, and support for the farming community which manages much of Dartmoor's landscape.
Comments
To leave a comment you need to create an account. |
All comments 0