Vital cancer treatment at Okehampton Community Hospital halted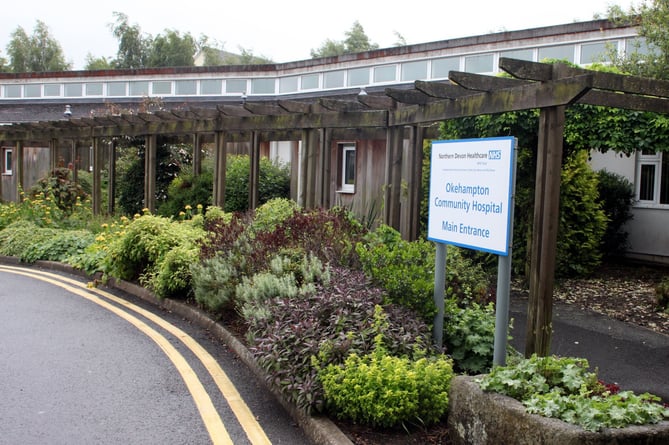 Okehampton Community Hospital, where the FORCE Cancer Charity has provided outreach chemotherapy every Wednesday. The sessions, a lifeline for people with cancer, have been cancelled for six months due to a shortage of trained nurses.
Subscribe newsletter
Subscribe to our email and get updates right in your inbox.
THE suspension of an outreach service offering chemotherapy at Okehampton Community Hospital for six months has left cancer patients facing a 25-mile journey to hospital in Exeter.
One cancer patient in the town described the halting of the weekly service as 'tragic' for seriously ill people.
The Wednesday outreach clinic is run jointly by the FORCE Cancer Care charity and the RD&E (Royal Devon and Exeter) NHS Foundation Trust. Nurses carry our treatment while FORCE volunteers offer support.
A spokesperson for the hospital said the decision 'had not been taken lightly' and was due to a shortage of experienced cancer care nurses.
But the news has awakened fears in Okehampton that the service will never return — following the fate of the maternity unit at the hospital.
This was closed 'temporarily' by the NHS in the summer of 2017, and over four years later remains shut.
Sue Wonnacott, manager of Okehampton and District Community Transport Group, said: 'This is a devastating thing to hear. They have said that it is only going to be for six months, but we have heard that before. The maternity unit was only going to be shut for six months.
'When you are that poorly you don't want to be travelling in and out of Exeter. You are already feeling poorly. You need to be able to go the shortest distance possible to have your treatment and then come back home.
'It just doesn't make sense to me, when we are supposed to be being greener and cutting travel. Sending a couple of nurses to Okehampton one day a week to treat these people must make more sense than having people travel to Exeter.
'I know they are struggling at the moment at the oncology centre at the RD&E, I know they are short, but this will be devastating for people with cancer.
'I know two people who are using the service at the moment and it will affect them.' She added that she had used the outreach support service offered by the FORCE volunteers at the hospital when she had cancer.
Cancer patient Scilla West, who lives in Okehampton, said the service had been a lifeline for her when she was having regular chemotherapy over the past two and a half years.
'I was very disappointed to hear that his has been stopped,' she said. 'I was on a lot of chemotherapy, three weeks on, one week off, and there must have been other people having the same now, every day or once a week.
'When you are feeling that rotten, because the cancer does pull you every which way, to have to travel up to Exeter for treatment, even if it is only once a week, really is a lot. It is also the expense of it, travelling up every week, which for some people will be really difficult.
She added: 'It also shows how desperate the hospital is to find adequately trained staff. When they are doing the chemotherapy as an outreach service they come across different scenarios and situations with people when they come in for treatment and they need to know how to deal with that too.'
'The nurses do a fantastic job and you get to know them. And it is brilliant because FORCE Cancer Care not only provide the staff from the hospital, in Okehampton you have the FORCE volunteers who make you feel welcome. They make cups of tea and bits to eat and of course they are people to talk to. They look after the nurses too. The nurses work non-stop and FORCE will just pop their heads around the door and say "would you like a cup of tea?"
'The FORCE Volunteer Group in Okehampton also does other things, they have walking groups because often people with cancer can't walk far or so fast. They won't be providing that either now the nurses aren't coming.'
A spokesperson for the Royal Devon and Exeter Trust said: 'The SACT (Systemic Anti–Cancer Treatments) outreach services provided at Okehampton Community Hospital, which is supported by FORCE, have been suspended for six months due to a shortage of experienced SACT nurses.
'This decision has not been taken lightly — we are extremely sorry to the small number of patients, families and carers who will be affected and will need to temporarily travel to the RD&E's Wonford site.'
Comments
To leave a comment you need to create an account. |
All comments 0