'California dreamin' for Nigel and Tucker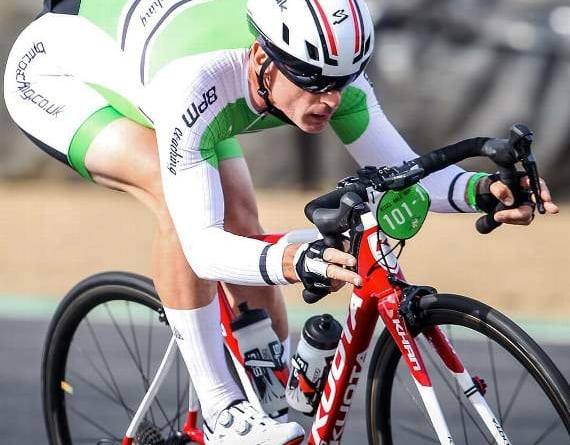 Nigel Hale-Hunter competing hard in the Revolve 24 hour endurance race at Brands Hatch.
()
Subscribe newsletter
Subscribe to our email and get updates right in your inbox.
TWO West Devon cyclists are off to California later this month to compete in the 24-hour Time Trial World Championships.
Nigel Hale Hunter, aged 53, and Tucker Sorrell, aged 50, are on a roll after doing so well in the Revolve24 endurance cycling event at the Brands Hatch circuit in Kent last month.
Nigel, from Monkokehampton, who is club chairman of Okehampton Cycling Club, finished the 24-hour endurance event in second place last month after leading for much of the race – now he and Tucker are off to the United States of America on October 26 and 27 to take on the world's best.
The Brands Hatch race started at 3pm on Saturday and ran non-stop until 3pm on Sunday. Leading through the night and until lunchtime on Sunday, Nigel was the first competitor to 'Everest' early on Sunday morning by climbing more than 8,850 metres. In total, Nigel clocked up 420.9-miles and climbed 11,245m over the 24-hour duration. 
The pair's cycling marathon took place on the Grand Prix Brands Hatch Circuit of 2.433-miles and 65m of elevation per lap. The circuit, more famous for motor racing, hoisted some 152 teams of up to eight riders, of which 70 were male 24-hour solo cyclists.
Nigel was supported by fellow OKCC member and local Invictus champion Andrew White from Okehampton as pit crew, helping with the preparation of food and drink and also keeping the bike in good order.
Nigel of BMP Coaching, coaches both Andrew and his fellow Revolve 24 competitor Tucker, from Chagford, who came eighth at the Brands Hatch event after completing 352.78-miles. Andrew, himself, will next week be in Sydney to compete in the Invictus Games for the second time, where he is hoping to once again bring home a gold medal.
Nigel and Tucker will at the same time both be in California competing in the World 24-hour Championships. 
Nigel has ridden more than 10,000-miles in training for the event and in excess of 200,000 metres of climbing in preparation for the prestigious 24-hour Time Trial World Championships in Borrego Springs, Southern California.
He told Times Sport: 'We will be using a standard road bike against time trial bikes. I expect to go further than I did at Brands Hatch, perhaps for a few miles. It would be good to get to 475-miles but you don't know the temperature or the conditions on the day and because we have to fly over we won't have all of our equipment.
'You have to keep your muscles working and nutrition in a 24-hour race is always a problem. After 12 hours of cycling your body almost repels anything you put in it, especially solids. When it comes to training for endurance competitions it is not all about distance achieved in one go but riding more regularly to build endurance and working in intervals to build pace. We always go into events to do the best we can and we will do the same in California.'
With Josh Coyne taking part in National Hill Climbing Championships in South Yorkshire this month it is a successful time for Okehampton Cycling Club riders.
Nigel added: 'It's incredible to think that with Andy in the Invictus Games in Australia, Josh in the National Hill Climbing Championships in Yorkshire and me in California competing in the 24-hour World Time Trial Championships it is quite an achievement for Okehampton Cycling Club to have three of its members competing at such a level at the same time.'
Comments
To leave a comment you need to create an account. |
All comments 0