Cyclist Andrew giving his all in pursuit of gold medal glory at Invictus Games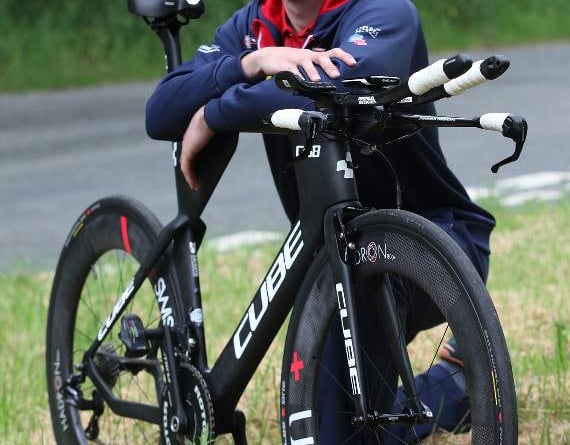 Andrew White — hard in training with his sights on a medal at the Invictus Games in Toronto this September. PIcture by James Bird
()
Subscribe newsletter
Subscribe to our email and get updates right in your inbox.
A CYCLIST from Okehampton is among 90 sportsmen and women who have been selected this week to represent Great Britain in the international Invictus Games in Canada.
Andrew White, 23 years-old and a former Army lance corporal in the Coldstream Guards, is one of 90 team members. to have been chosen to compete at the games in Toronto between September 23-30.
Founded by Prince Harry, the inspirational Invictus Games is an international multi-sport event that is open to all wounded, injured and sick serving personnel and veterans.
More than 770 people applied for a place and Andrew was selected from 330 who trialled for the squad and put through their paces at a special selection camp held at Bath in April. He secured his place in the cycling competition after an exiting 'race off'.
Andrew felt his life had just begun having been promoted and returned from a tour with the Army to Afghanistan, where he spent four months in the capital, Kabul.
However, a severe non-freezing cold injury to his feet instead saw him medically discharged from the job he loved and early in his career. Months of depression followed, but he finally sought the help he need to rebuild his life and reignited his love of cycling.
Andrew had already represented his regiment in cycle races. He told the Times: 'When you have an injury it's going to hurt and its a big ask on your body but you get through it.
It's hard to explain but when I put my helmet on my mind goes into a different zone. Cycling takes me away into my own space.'
After leaving the Army - Andrew now works as a sales executive for Rentokil in Okehampton - his passion for cycling continued and he joined Okehampton Cycling Club.
Incredibly, up to May 23 Andrew, taking part in their weekly time trail, has bettered his performance every time he rode and was the first person in the club's history to beat the 24 mark in the 10-mile race.
Now his focus is the games in Canada this September where he will represent Great Britain in the criterum (a 1.7k tactical road race over a set time) and a 11-kilometre time trial.
Andrew said: 'The Invictus Games has given me something other than my injuries to focus on. Until that point I realised that I had just been waiting for the life to be done. I have been training for the last year with the help and support of my family specifically for the games. Being part of the training camps have really made me feel part of a like-minded team which has given me the inspiration and drive to continue on my road to recovery.'
His coach Nigel Hale-Hunter, who also trains Andrew's club mate Josh Coyne, has been impressed by Andrew's determination and application.
Nigel said: 'He works very hard and I've noticed a big change in him and seen him improve over the time he's been training with me.
'As a trainer I thought I could help by giving him the time and experience to set up his training and a schedule to help him progress.
'Andrew drives himself hard and is very committed. What is gratifying for me is that I give him a plan to improve his performance and he sticks to it. I've no doubt that we can bring on his speed and power for the games.
'He's going to the games and he wants to win it. I've no doubt about that. The Invictus Games have given Andrew a goal and if I can help him achieve it I'll be very happy.'
Rob Szembek, the chairman of Okehampton Cycling Club, added: 'Andrew has been doing really well in local time trials. The club is very proud of him being one of those chosen to represent his country at the Invictus Games. We wish him all the best.'
The Help for Heroes charity is supporting the UK Team for the Invictus Toronto Games 2017. It is working in partnership with the Ministry of Defence and The Royal British Legion to support the UK athletes in their journey to Toronto 2017.
Andrew is hoping to be a professional cyclist in the future and would be grateful to potential sponsors to help, especially with his training for the Invictus Games. For more information see the website at www.gofundme.com/andrew-whites-invictus-games-fund
Comments
To leave a comment you need to create an account. |
All comments 0