Invictus gold Andrew — 'Second to None'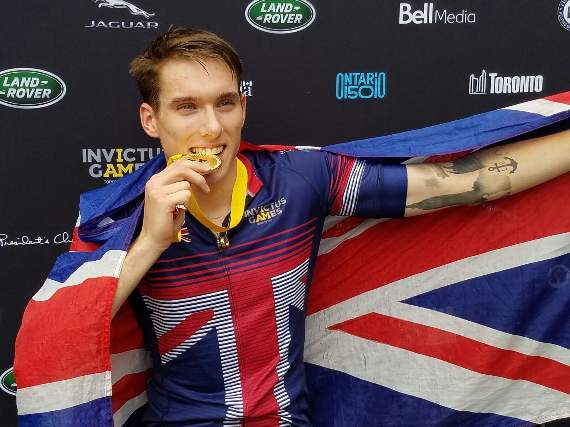 Golden moment — Okehampton's Andrew White celebrates his win in the men's cycling IRB 3 criterium at the Invictus Games in Canada.
()
Subscribe newsletter
Subscribe to our email and get updates right in your inbox.
OKEHAMPTON'S Andrew White proved he was 'second to none' when he added glorious gold to his superb silver at the Invictus Games in Canada.
The Games, held in Toronto last week, was an international Paralympic-style multi-sport event, in which wounded, injured or sick armed services personnel and their associated veterans take part in sports.
Andrew, a former soldier and Afghan veteran, who was medically discharged from the Army after a severe non-freezing cold injury to his feet, lived up to the motto of his former regiment, the Coldstream Guards — 'Nullus Secundi' ('Second to None') by cycling his way to the gold in the men's road cycling IRB 3 criterium.
He crossed the line in a time of 28 minutes 21 seconds to take first place - ahead of fellow GB team mate Nathan Jones and USA's Adam Faine in third.
Only two days (September 25) before he had earned silver in the men's five-kilometre time trial, just losing out to a fellow Great Britain competitor.
One gold and one silver was due reward for all the effort that he has made in the past months on the West Devon roads in preparation for the Games.
Andrew, aged 23, told the Times: 'I had trained so hard and set myself a goal that nothing less than a gold medal would have completed the end of the journey.
'I gave myself a challenge and didn't want to come home empty handed, for myself or my family, and wanted to win for all the sacrifices we have both made to get me to where I am today.'
Andy said he was also very fortunate to have his coach, Nigel Hale-Hunter of BPM Coaching, who was at the Invictus Games by his side to guide him.
There was one very special moment for Andrew, though, when he was on the winner's podium, to collect his gold medal. As he stood there he looked up to the sky and kissed his medal and held it up in homage to his grandfather Tom, who passed away in 2005.
'I felt his presence there with me and I honestly believe he was looking down and enjoying my success.'
'It all has been such an incredible experience. My favourite part was the opening ceremony when we got off the bus and suddenly we made our way through a tunnel of people, who all clapped and cheered. I felt like a superstar. It was terrific.'
Proud parents, Richard and Sally-Ann White, are absolutely delighted with what Andy has achieved.
Richard said: 'We are over the moon, not just about winning medals,  but also from the prospective of how Andy  has come through in terms of finding the physical and mental strength to come to this point.
'Ever since he was a kid he wanted to be in the Army and having achieved that then, through injury, having his career certainty taken away was very hard to take. From one moment being a Lance Corporal and the next moment finding himself unemployed left Andy in a dark place.'
Richard said by co-incidence this week is Mental Health Week and is delighted that  Andy has proved in Canada, through the Invictus Games, what can be achieved by those suffering from physical and mental illness and how they can turn their lives around.
'When Andy was a little boy,' added Richard, 'he used to deliver the Okehampton Times on his bike and he loved riding around the town delivering the papers and pretending to be in the Tour de France.. So when he got injured I think it was the memory of his enjoyment of cycling that spurred him in that direction and he hasn't look back since!' 
Josh Coyne, his team mate at Okehampton Cycling Club, who has been helping Andrew prepare for the Invictus Games was delighted for his friend.
He said: 'It's fantastic. I sat there watching Andy on my laptop in the time trials and I was quite proud of him. Especially in the criterium, he raced almost the perfect race.
'As it was happening I was willing him on to make the right moves and he did. It was brilliant to watch.'
Josh, who won the South West regional two-up event along with Andrew recently at Saltash, said: 'One of Andy's strength is his sprinting, so he knew that if it came down to a sprint finish, he was in with a chance. Knowing him he probably weighed up the opposition and just went for it.'
However when Andy returns and they resume their training Josh told the Times he was going to make sure his friend 'came back to earth' after his international success, with a spot of hill climbing — Josh's speciality!
Andrew though is not going to rest on his laurels and is already making preparations to defend his title and win more medals (gold) at the next Invictus Games in Sydney in 2018.
Comments
To leave a comment you need to create an account. |
All comments 0