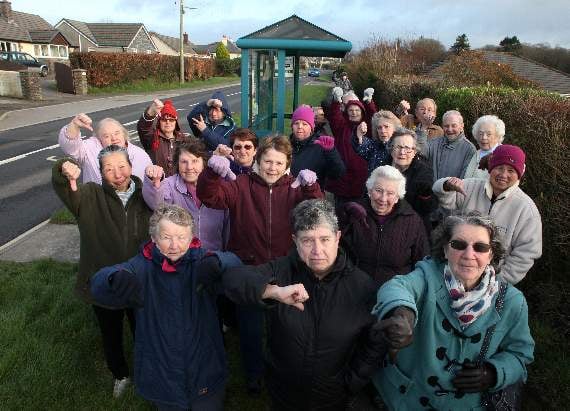 Residents at the bus stop in Halwill Junction — they are up in arms about proposals to reduce the service.
()
Subscribe newsletter
Subscribe to our email and get updates right in your inbox.
People in small communities near Okehampton are concerned about losing their bus link to Exeter as bus company Stagecoach proposes timetable changes.
The bus company says there is 'potential to curtail some journeys at Okehampton' on the No. 6 service from Exeter to Okehampton on to Bude via Thorndon Cross, Castle Cross and Halwill Junction.
Karen Potter, who lives in Halwill Junction, said: 'The buses are about every two hours at the moment and we really can't afford to lose any of them.
'They can't say they are not busy because the bus is always packed. 'It is not just me that's affected, I have got a car, but the lady two doors down doesn't drive.
'My husband works in London and when he comes back at weekends he takes that bus to save me coming to Exeter on a Friday afternoon.'
It is not yet clear if the 6A Exeter to Okehampton and Launceston, stopping at Lewdown and Lifton, will also be affected.
The bus company is inviting comments by March 1 before deciding its new timetable from May 24.Jo Alleguen, who lives in Halwill Junction, takes the No. 6 bus regularly.She said: 'I'm so up in arms about it. If they take the bus away what are people going to do? They are going to be completely stuck. 'We have got a car although we don't use it a lot but not everyone here does. My friend is a widow and her husband drove but she doesn't drive.'She said the bus was used by holidaymakers boarding at Exeter St David's to get to Bude. 'In the summer you are lucky if you can get on the bus, people are standing up it is so full. This is really going to have a huge effect on people.'Fiona Mokandpuri's son catches the bus from Castle Cross to Exeter College four days a week.'It would be awful if they did cut the bus,' she said. 'We did look at him maybe driving in but the parking is so expensive in Exeter.'I know there are people from as far away as Holsworthy catching the bus that goes into Exeter College, it has a huge catchment area.'People in Lewdown and Lifton are also worried they will lose the 6A, linking them to Okehampton and Exeter and Launceston.Nicky Bailey said: 'My mum is a pensioner in Lewdown who is unable to drive and relies on this bus to shop in Okehampton. 'Her granddaughter also uses this service to visit her.'Okehampton county councillor Kevin Ball said: 'I'm disappointed that there aren't more details in the consultation, particularly with the 6 amd 6A, because it would help people to understand what they are commenting on.'Devon County Council supports several services on the 6 and 6A which Cllr Ball said 'in practice puts one additional vehicle into the system, the main purpose of which is to increase capacity at peak times'.'Our financial support does not cover the whole service but only those specified journeys,' he said.'There is no direct threat to their continuation, unless Stagecoach opt to give notice on the contract — which we do not expect to happen.'A spokesperson for Stagecoach said: 'Stagecoach are currently working with Devon County Council and with local MPs on their proposals and we look to have some more details to share in the next few weeks.'Comments to Stagecoach are invited by March 1 on [email protected] or 01392 427711.
Comments
To leave a comment you need to create an account. |
All comments 0