Cyclist Jonathan Tiernan-Locke to return to action after two year ban
Tuesday 23rd February 2016 4:54 pm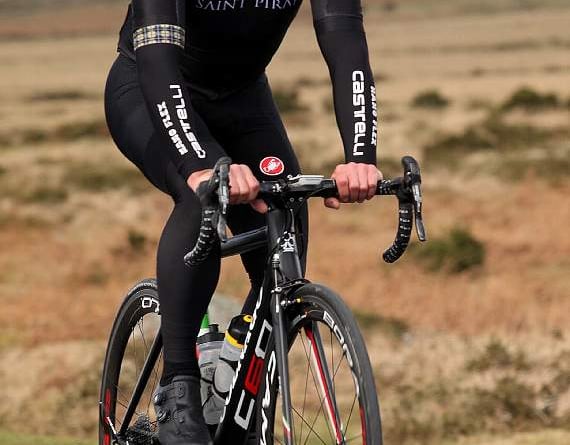 Jonathan Tiernan-Locke
()
Subscribe newsletter
Subscribe to our email and get updates right in your inbox.
GUNNISLAKE cyclist Jonathan Tiernan-Locke is to make his return to competition this Sunday (February 28) after completing a two year ban.
The 31-year-old rider, formerly of Team Sky and Endura, was stripped of the 2012 Tour of Britain title following an anomaly relating to his biological passport. He was found guilty of using the banned blood-booster EPO by a UK anti-doping panel.
The test was taken a week after winning the Tour of Britain for the British-based Endura Racing team, and his urine and blood samples did not match those he gave while riding for Team Sky.
Tiernan-Locke's two year ban from racing finished on December 31 and his first race back is the 53 kilometre Primavera Road Race at Hatherleigh. He will lead out his new four-man team Saint Piran, named after the patron saint of Cornwall. He has set up the team after initially planning to come back to racing as an independent.
British Cycling has only given Tiernan-Locke a second category racing licence on his return. Speaking to the Times, he said: 'It is a bit petty really. I've never held a second category licence. In 2003 I went from four to three to two to one to elite in a year. Later in the year I should move up categories if all goes to plan.'
Despite being given a second category licence, he is confident that he will soon accrue the points necessary to climb the categories.
'This is a totally different level compared to the last time I raced which was in the world tour. It's a lot smaller event but there will be some strong guys in there doing their best to make it uncomfortable for me and I'm looking forward to it. It's going to be odd to be in a big bunch of riders again.
'I'm aiming to win. I would be a bit gutted if I don't win because I've been so used to cycling at a higher level. I'd be asking questions of myself if I didn't win on Sunday.
'I'm 31 now but I'm going better than ever. When you look at my previous numbers with Sky and Endura, my current numbers blow them out of the water. I hope that translates into race wins.'
Tiernan-Locke has been working with business partner Richard Pascoe since last summer to secure sponsorship and equipment for his newly founded team Saint Piran. He has set up the team with the aim of finding talented riders living in the South West. The team is made up of Jonathan, Andrew Feather, Jake Alderman and Ritchie Gooding.
He said: 'As a team we've entered the national series this year and got one or two riders in each of the rounds. We want to put ourselves out there.
'Saint Piran is about the development of young riders and creating a pathway to turning professional. There is no clearly defined route to turn pro and we want to demystify that process. There is a lot of talent in the area and the team is about finding that talent.
'If you live in Manchester or other parts of the country, you can go to the veldromes, get developed on the track and the path is all laid out for you. We want to try and build a platform for riders in this area to succeed.
'Rich Pascoe and I set about at the end of last summer securing industry partners and cash sponsorship. The response has been great. To fund the website, a company called Leap who designed the Cornwall Council site among others, has pledged £20,000 of work for us. We have obligations to them in terms of outreach work and things but it's been great support like that. As far as the team is concerned, it's looking good.
'I'm mentoring Jake a bit and on the looking for guys coming out of the junior ranks and looking to go into the adult ranks. I am coaching a few junior guys and girls.'
So is Tiernan-Locke bothered about what people think of him?
'I'm not bothered. If people want to go on the internet and talk about me behind a pseudonym, that doesn't bother me at all. I've had a positive reaction in the main locally. I've been training with guys I've competed against in the past and former team mates have been supportive.'
Comments
To leave a comment you need to create an account. |
All comments 0