Lydford's Lorraine to tackle Great Wall of China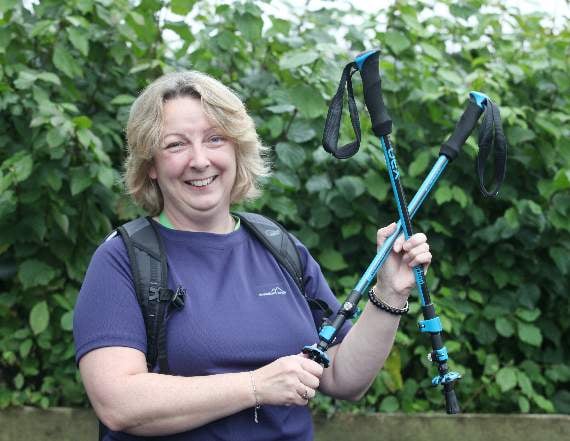 Picture by James Bird.
()
Subscribe newsletter
Subscribe to our email and get updates right in your inbox.
LORRAINE Fowler is packing her bags and heading off on an adventure today (Friday), writes Sarah Pitt.
Taking advantage of the half-term break from her job as school administrator at Lydford Primary School, she is boarding a plane to fly more than halfway across the world. Once there, she will be walking more than 11,000 steps along the Great Wall of China.
For Lorraine the five-day challenge will be no mean feat.
She has a rare genetic neurological condition which has meant clearance from her neurologist to board the long-haul flight. Getting fit enough has meant putting in hours in the gym. Nothing is going to stop her getting on the plane though, not even a certain squeamishness about the food ('I'm going to stick to chicken and rice').
The trip will be nothing less than a pilgrimage for both Lorraine and her companion, her 18-year-old daughter Jessica. They are aiming to raise £1,000 for the Devon charity Pete's Dragons, which helps families bereaved by suicide, a charity close to both their hearts.
As they are paying for the trip themselves, any donations they receive will go directly to the charity which supported them after Lorraine's husband – Jessica's father – Mick killed himself in the summer last year.
When the tragedy happened last year, they found themselves at a loss of where to turn. The police officer supporting them suggested contacting Pete's Dragons, a charity helping those affected by suicide.
'My daughter got in touch with them and from then on they were just there for us, helping and supporting us. They came out to see us at home for the first few months.
'They are inspirational in what they do. I want people who go through it to know that there are people out there who have been there, and will be able to support them.
'I think it is a wonderful charity and they are slowly getting recognised for the work that they are doing.'
Lorraine says the support is particularly valuable after a suicide because the grief is complicated by the way the person has died.
'It is such a cliché that when someone dies, everyone comes around bringing hot food and support.
'With a suicide though, it is different.
'People shy away, they won't come around for a cup of tea, they won't come and meet you for lunch any more, they don't know what to say.'
She was away from the family home in Broadwoodwidger on the day it happened back in July 2017 she'd gone up country for a funeral.
'I got a phone call from the police saying my daughter had found him dead, hanging from the tree in our cottage garden.
'I had to drive several hundreds of miles back through four or five counties.
'It was a real shock. I couldn't believe it – sometimes I still can't believe it. He left notes for everyone but me.
'He was 52 when he died. He did it just before his birthday.'
The tragedy is compounded for Lorraine because she and Mick, who'd been married for more than 20 years, were not getting on that well in the few weeks before he died.
'He'd never had any medical issues at all but he had an accident at work in February that year – he drove machines for an operator – and he knocked his two front teeth out.'
He had, she says, 'a magnetism about him' which drew people to him. 'Everyone liked him.' But after the accident, he changed. She said that one time he had threatened to kill himself once before, before disappearing and she called the police. 'A week before he killed himself he disappeared for five hours on his motorbike. We rang the police and they came round. Then he came back at 1am and told them he had just gone for a bike ride.'
'For the last couple of weeks he was quite strange. He wasn't happy in himself. He would go to work then come back after just a short while. We weren't getting on. I never thought he would do that though.'
The fallout from Mick's suicide remains with Lorraine and Jessica. 'Jessica still isn't coping,' she says. 'We both ask ourselves if there is anything we could have done differently.'
Lorraine says the idea of heading off to China came from the Pete's Dragons website, where bereaved people are encouraged to challenge themselves – giving themselves a dragon name when they do so.
'I said "do you know what, I have always wanted to walk the Great Wall of China, so why don't I do it?
'I'm self funded, so all the money I raise will be going to the charity. This is so meaningful for me. It is like someone is calling me and saying 'you need to do this, you need to do this for yourself'
Visit the Just Giving website and search for 'Lorraine Fowler'.
Comments
To leave a comment you need to create an account. |
All comments 0