New tales for children inspired by town and valley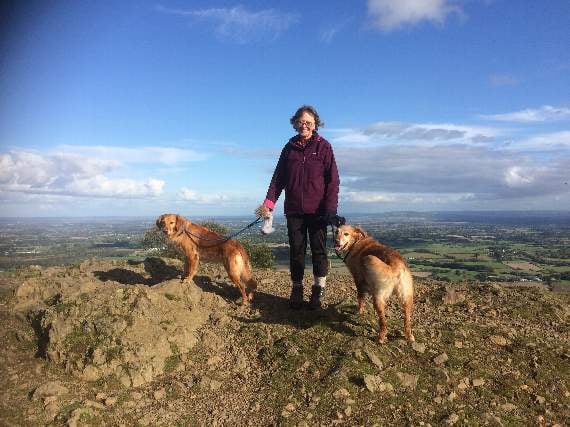 Sally Hubbard is pictured with her dogs
Subscribe newsletter
Subscribe to our email and get updates right in your inbox.
TWO local authors have created children's books that feature strong connections to Tavistock and the Tamar Valley.
Sally Hubbard, who was a Tavistock College teacher of 30 years, has released her first book A Clattering Beneath the Woods for children aged nine to 12; and Tavistock resident Helena Ancil published her first illustrated storybook Tales from Erika's Garden whilst self-isolating.
Sally, from Chilsworthy, said the inspiration was the beauty of the Tamar Valley, especially the woodland and its vast mining history.
She said: 'I spent some time with limited and distorted vision, having had two eye operations and when I walked in the woods each day during my recovery, my perception was greatly altered. '
'It was similar to being underwater and I saw the colours of the flowers differently; light reflected in rainbows from moisture trapped in moss, it was difficult to see outlines clearly in bright sunlight and I realised my sense of smell was heightened.
'I wondered what it would be like for someone who always noticed more than others, who always saw things others overlooked.
What might they see? What does everyone else miss?
'The main character in the book, a Year 7 student, does notice the natural world more than her contemporaries and this leads her to a very strange woodland encounter.'
Illustrations to accompany the story are by Ian Pethers from Gunnislake and Drawn to the Valley artists.
Helena Ancil's book, suitable for over fives, features two stories that follow the adventures of the talking creatures that come into Erika's Cornish garden in Gunnislake and stem from conversations in Tavistock Pannier Market. Helena, well known in the performing arts in Tavistock, said this is her first collection of children illustrated stories.
Amazing Glazing and The Intruder follow the lives of the different talking animals that come into Erika's garden. 'Bluesey the cockerel', 'Goldie', a show champion hen, Indian Runner ducks and cats 'Homer' and 'Lulu' congregate in Erika's Garden to observe the strange developments being carried out by the humans there.
Meanwhile, in The Intruder readers find two new animals coming to the garden — 'Puss', known locally as 'The Beast of Gunnislake' and another initially unknown animal. But, the others learn not to judge a book by its cover as Puss helps to save the day.
Comments
To leave a comment you need to create an account. |
All comments 0