Roger's photographic love affair on the buses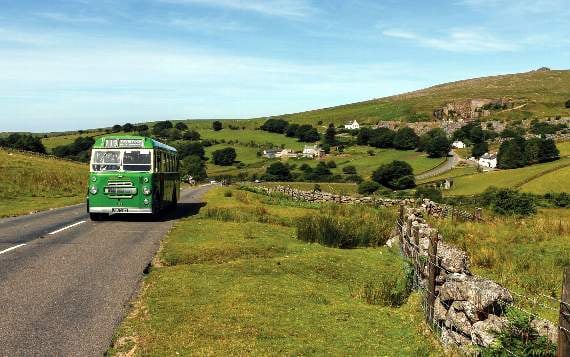 Subscribe newsletter
Subscribe to our email and get updates right in your inbox.
READERS can jump aboard and enjoy a wonderful trip down memory lane in the latest book by former Tavistock and Okehampton Times journalist Roger Malone.
Roger, who was deputy editor at these newspapers for 15 years and later went on to work for the Western Morning News, has lovingly shared a collection of superb, colour photographs that show off this understated mode of public transport in the wonderful setting of the Devon countryside and its coast resorts in his latest volume – Vintage Buses in Glorious Devon – A Journey in Colour.
Although a self confessed 'steam railway buff' — Roger has written three books on trains including 'Railway Moods in Devon' — he was captivated by the buses on a working journalistic assignment to the annual bus rally in Kingsbridge, South Devon. It led to him build up a collection of 200 pictures, taken over a period of eight years, of buses and coaches which were lovingly restored and paraded by their proud owners.
Roger said: 'It all came about through doing a journalistic piece in 2011 at the Kingsbridge Bus Rally, an event created by Colin Billington, where I was confronted by the magnificent sight of 30 vintage buses all in one place — something I had not seen before.
'They all had an individual charm of their own, with their shiny chrome, distinctive colours and some with half cabs, it was all very nostalgic.'
Many of these magnificent vintage vehicles were from the 1940s, 1950s, 1960s and 1970s, displaying the distinctive liveries of bus companies whose buses were so familiar on the roads of Devon just after the Second World War – Royal Blue, Grey Cars, Devon General, Western National.
Inspired by the sight, Roger went on to capture a fascinating array of photographs, many in West Devon – including Tavistock, Okehampton, Winkeligh and Dartmoor.
Roger admits he was lucky with the weather for his shots but recalls that once, at the Twilight Running event at Exeter, it did pour down but the rains mingled with the darkness and the city lights only added to the magical atmosphere and produced a series of memorable images.
He put a lot of thought and time 'framing' each picture. He remembers in particular a Western National bus with the iconic Burgh Island in the background where Roger waited for an hour to take the picture he wanted on a slippery, wet bank — but the result was well worth waiting for.
'I knew where I wanted to take the photographs but a passing car or lorry or a person walking past just at that spilt second can ruin the effect and sometimes you only have once chance. For me it was not so much about taking a picture of a bus for historical purposes but more in framing the bus in the right setting. I wanted to celebrate the scene and the bus together.'
Roger acknowledges the dedication of people such as Colin Billington, along with Colin Shears, who created the West of England Transport Collection at Winkleigh, and his son Dan, who himself set up The Twilight Running, in preserving so many vehicles.
'When these buses and coaches were operational, a bus would get you from A to B and a coach would takes its passengers on a real pleasure trip – a journey to the seaside, a coastal resort, a countryside pub or for a cream tea. It was a time when there were hardly any cars compared to today; they were lovely days and so these pictures are a nostalgic reminder of those times.'
Vintage Buses in Glorious Devon – A Journey in Colour is published by Pen and Sword Books.
Comments
To leave a comment you need to create an account. |
All comments 0