Screenwriter Dan Sefton talks to the Times about his career and latest drama Delicious, set in Calstock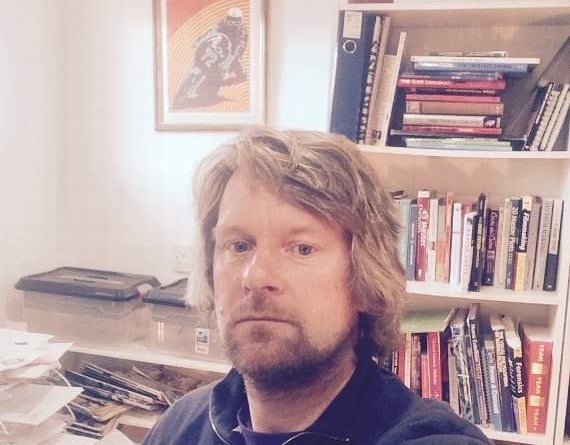 Subscribe newsletter
Subscribe to our email and get updates right in your inbox.
Writer Dan Sefton talks to Alison Stephenson about his career and filming in the Tamar Valley.
DAN Sefton is a man of many talents — part of his week is spent as a frontline worker for the NHS and the other embroiled in the world of make-believe.
Dan is a doctor and a screenwriter and since 2000 he has been writing for various dramas like Doctors, Eastenders, Mr Selfridge, Holby City, Monarch of the Glen and Born and Bred. This year will see releases of his original screenplays — Delicious for Sky One, which is currently being filmed in Calstock and Pentillie Castle in East Cornwall, and The Good Karma Hospital for ITV.
Writing and making up stories had always come easy to Dan, who works in the accident and emergency department of Taunton Hospital so with a desire to challenge himself at school he concentrated his efforts on science which led to him training as a doctor, but it was through a friend that his writing talents came to the fore again years later.
'I was working as a medical registrar in London at University College Hospital,' said Dan. 'A friend of mine was working on the BBC daytime drama Doctors which was in its first series at the time.
I had been taking a course in screenwriting in London as something to do in the evenings. I cheekily suggested to my friend that I should be writing for the show because I was a doctor and she said "OK you write a story then." I did and she said "oh that's actually alright!".
'I got to write an episode and the producers liked it so they asked me to do some more. I was due for a sabbatical at work so I took that time so I could write but ended up not going back. The writing took off and I was getting well paid for it, certainly more than I was getting as a doctor!'
As time went on and the work kept coming, Dan made new connections in the industry: 'I went from one job to another so I never needed to go back to medicine,' he said. However, it was around five years ago that he started to miss his former career.
'It's hard working at home in many ways,' said Dan. 'I missed the company of other people. As a doctor you learn an awful lot about people and how they react to things and that's a very privileged position to be in when you are a writer. I have been very lucky to interact with people at a very crucial time in their lives.'
Although Dan said his work as a doctor had benefitted him as a writer, his stories were not based on his experiences: 'My writing tends to be more upbeat,' he said. 'Real life is almost too dark — nothing I write relates directly to my work in medicine.
'I may take an idea from a real human situation but it is unrecognisable when it makes it to the finished text.'
Dan's writing is somewhere between comedy and drama because 'life has a bit of both', he said. He is really excited about his new screenplay Delicious, a four-part drama on Sky One, featuring Dawn French, Emilia Fox, Iain Glenn and Sheila Hancock, which he said shows the village of Calstock off in a terrific light.
Directed by The Wedding Date's Clare Kilner, Delicious is billed as an 'honest and compelling story of love, sex, lies and betrayal'.
Dawn French plays brilliant cook Gina, who was once married to Leo Vincent, played by Iain Glen. He's a successful entrepreneur, chef and Cornish hotel owner, who owes much of his success to Gina's exceptional cooking. He's now with glamorous Sam (Emilia Fox) but she has suspicions that Leo is having an affair. She confides in Gina, only to discover that it's Gina herself who has become the 'other woman'.
Dan said the producers for Sky One were looking at doing a show about a hotel based in Cornwall but he had nothing much more to go on than that: 'The characters came out of nowhere but they seemed very real,' he said. 'I wrote all this stuff and everybody seemed to like it. I was really interested in the food aspect. I especially like Italian food.
'We all put our ideas in, the director, the producer and so on — it's always a collaboration and the final product ends up in a much better place than when it was just me involved. It's greater than the sum of any one of its parts. That's what's wonderful about it. I wasn't that involved in the casting but the actors are brilliant. Tanya Reynolds especially plays the part of Teresa exactly as I imagined it.'
When looking for locations Dan's wife had spotted Pentillie Castle near St Mellion on the internet as a possible 'hotel location' and whilst staying there they were told that the nicest village around was Calstock.
'We wanted to go to a local pub and we ended up going to Calstock on recommendation,' said Dan. 'We thought it was the perfect location for Delicious. We wanted to film somewhere fresh — Doc Martin is filmed on the north coast and Poldark has its Cornish cliffs and horses, St Ives is also used quite a lot but Calstock is different. It is a beautiful place, it's quirky and original but it is also somewhere where you feel real people live and go about their business. We did not want something too chocolate box. We also felt the viaduct was a great thing to film around — it is visually very interesting.
'It was all very serendipitous finding the location really but we are so pleased with it. Being from Plymouth, Dawn French is a local girl anyway so she felt it was like coming home and the rest of the actors really enjoyed being there.'
The expected screening of Delicious is Christmas 2016: 'With the Mediterranean food and sunshine in this show the thought was it was something viewers would like to see at Christmas time, said Dan. 'It is also all about a dysfunctional family so that always goes down well at Christmas. I really hope people like it.'
Dan's other current project is The Good Karma Hospital, a six episode contemporary medical drama series for ITV set in South India which follows a team of British and Indian medics as they cope with life, work and love at an over-worked and under-resourced cottage hospital.
Dan said he was always looking for ideas for new TV shows and his NHS colleagues were always his best critics: 'They tell me what they like and if something is rubbish! We talk about TV drama a lot and they tell me what I have got to see. They said "you must watch Happy Valley it is amazing".'
Dan, who admits he is 'a terrible actor' has even managed to get some of his colleagues playing extra parts in Delicious which also features extras from the Calstock community.
So what are his plans for the future? 'Keep doing what I am doing really,' he said. 'I do feel very lucky that I can work part-time in both my jobs as I seem to have the balance right. As a doctor you can become very overwhelmed by it all working full-time but I don't have that same responsibility and am always up for new ideas when it come to writing — that's what keeps it interesting!'
Comments
To leave a comment you need to create an account. |
All comments 0