Cyclists Andrew and Josh up for 'two-up'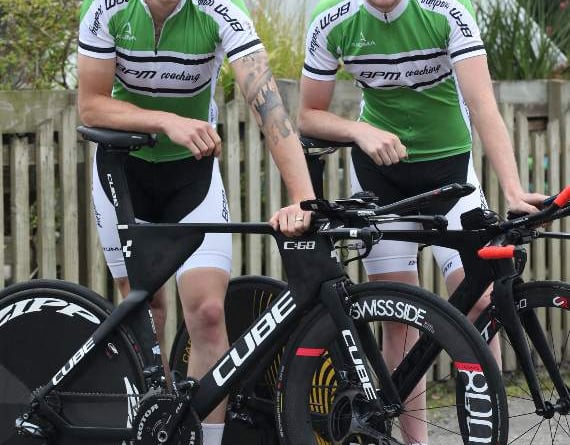 Cyclists Andrew White and Josh Coyne. Picture by James Bird
()
Subscribe newsletter
Subscribe to our email and get updates right in your inbox.
TWO Okehampton men are taking on some of the best riders in the South West on Sunday, when they compete in the regional 'two-up' cycling time trial at Saltash.
Josh Coyne and Andrew White are aiming for nothing less than victory in the regional two-up' championship, which is 14.5-miles long — far longer than their usual 10 kilometre time trial.
A 'two-up' is where two cyclists ride together as a team over a distance aiming to do it the fastest time —racing against the clock and other pairs.
The ideal two-up time trial team would be two people of similar ability who are able to spend a long time practising together. That's certainly true for Josh and Andrew, both members of Okehampton Cycle Club.
Josh, aged 22 and a former Okehampton College student, is a specialist hill climber and in the top 100 amateur riders in the country. He has won recent hill climbs in Plymouth and Tavistock — breaking the course record at the latter in June.
'Andrew's just amazing as a cycling partner and so strong. This year he has kept me on my toes. We both have a desire to win and keep pushing each other to our limits,' said Josh, who works at Okehampton Cycles.
Josh only took up competitive cycling four years ago but has already come far in a short space of time and is hard in training to earn a spot at the National Cycling Hill Climbing Champion-ships, which will be held in Northumberland in late October. He is planning to take part in built up events such as Bristol, Bath, Exeter and Haytor to get himself in gear for the nationals.
'In the long term I would like to be on the podium at a National Cycling Hill Climbing Championships. I don't have aspirations to be a professional rider but I'm aiming for a top 40 position in the hill climbing.
He praised his coach, Nigel Hale-Hunter of BPM Coaching, who also trains Andrew.
'The programme Nigel has set us has been absolutely brilliant; it is so easy to follow. He understands that we only have a set period of time to train as he knows we also have to work as well, so everything is planned to the last detail. Nigel certainly gets the best out of us. Without him I would not be at the level I am.'
His cycling partner Andrew is also not without determination to succeed. Former soldier Andrew, aged 23, has his sights on the Invicta Games in Canada.
He has been selected to represent Great Britain at cycling at the event in Toronto between September 23-30. The inspirational Invictus Games is an international multi-sport event that is open to all wounded, injured and sick serving personnel and veterans.
Former Coldstream Guard Andrew, who served in Afghanistan, was medically discharged from the Army after suffering a severe non-freezing cold injury to his feet. He took up cycling and found a new passion and is 'going for gold' in Canada.
'Josh is great to have as a cycling partner, he is just like me — very competitive and highly motivated.
'It's great working with Josh and especially to have someone at his level to train with and who is so competitive as me. He is like minded and wants to win and that benefits both of us and riding together certainly brings out the best of me.
'For me personally it would be great to go to the Invicta Games in Canada as a regional 'two-up' cycling champion. There are only five week to go to the Games and I can't wait.'
Comments
To leave a comment you need to create an account. |
All comments 0