Talented Okehampton area photographer back to doing what she loves after life-threatening brain haemorrhage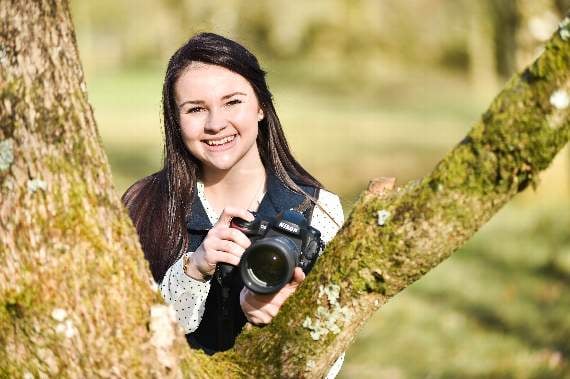 Emily Sizmur - better known as Emily Fleur.
Subscribe newsletter
Subscribe to our email and get updates right in your inbox.
SUFFERING a brain haemorrhage at any age can turn a life upside down but for one young photographer from Thornton Cross, near Okehampton, she is determined to recover and continue to follow her dream.
Emily Sizmur —better known as Emily Fleur — has spent the past year and a half recovering from a brain haemorrhage but she is now focusing on the future to develop her business.
She was born and raised at the Sizmur family farm and with true entrepreneurial spirit, Emily had saved money from selling chicken eggs to buy a camera and soon discovered a new passion.
Emily launched her photography business in 2012, leaving Okehampton College at the age of 15, to give it her attention full-time. She was booked for her first wedding two months later and from there, her business grew rapidly.
Bad headaches had always plagued her but in her early life she was resigned that these were something she had to endure, never realising that they could be a sign of something more dangerous.
Before her life threatening illness Emily was already hailed as one of the region's most accomplished young photographers, and selected as one of the Jack Wills 'Young Brits' in 2014 for her entrepreneurship.
Previous to her haemorrhage in August 2016, Emily was covering roughly 50 weddings a year, as well as many family photoshoots and agricultural events, with the help of her apprentice, Amy.
While at a wedding one day as a photographer Emily said she had 'the worst headache ever.'
'The doctor thought it could have been heatstroke but when the headaches did not go away he sent me to the Royal Devon and Exeter Hospital and they did a brain scan where doctors diagnosed a brain haemorrhage,' she said.
A brain haemorrhage is a type of stroke, caused by an artery in the brain bursting and causing localised bleeding in the surrounding tissues.
'I was on so much morphine that when they told me that one in 10 people die with my condition I didn't take it in and then they said that I would go blind. I just thought — well, if I go blind, I go blind. There aren't too many blind photographers about!'
It was this spirit that helped her battle the illness. From Exeter she was sent to a more specialist unit at Derriford Hospital, Plymouth. Still on morphine and after an operation to stabilise her condition Emily was send home back to the family farm at Thornton Cross. However, after just two days, she suffered another aneurism and was sent to a hospital in Bristol. Fortunately, thanks to the work of the medical staff she made a recovery, if not yet a full one.
Back at home when fighting the illness  she decided to take a step back from her photography business to allow her health to improve, massively reducing her bookings and instead focusing on refining her marketing skills.
She joined Exeter-based Lightfoot, a driving technology business, in May 2017 — sensibly learning a whole range of new skills that would help her when she was ready to return to her own business. Now, as one of Devon's most respected photographers in the wedding and farming world, Emily is feeling refreshed and invigorated and is eager to get back behind the camera. 
Emily said:  'I've always refused to let my health condition stand in the way of my success — just like businesswoman Karren Brady (current vice chairman of West Ham United Football Club and aide to Lord Sugar on TV programme The Apprentice), who has inspired me since before I became ill. Then, when I discovered that she suffered from a very similar condition to me in her youth, I couldn't help but take that as motivation to get better and back to business. 
'I suppose I would say she's my idol – it's incredible to have been through all that she has and still come out the other side as the highly celebrated, successful businesswoman she is today. She has earned the respect and admiration of millions, and it's reassuring to know that anything is possible, even in the face of severe illness and potential setbacks.'
Emily herself, through battling the serious illness and surviving to continue a career that she clearly loves, is, indeed, herself an inspiration to others who have recently suffered the same thing as she did.
'It will be five years before I know if I will be entirely safe from the condition,' said Emily, 'but you just have to get on with it. What else can I do? I now get two or three messages a day from people who are going through the same thing and I hope I can give some comfort and hope to them. If I can help them then that makes me happy.'
Emily this month has relaunched her website, is back at work and now looking forward to getting behind the camera and hoping everything in future will click into place.
Comments
To leave a comment you need to create an account. |
All comments 0