Tavistock woman whose daughter took her own life runs to raise awareness of mental health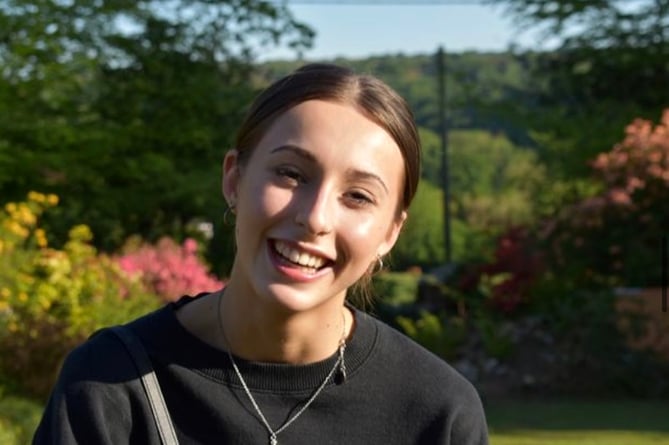 Darcy Hollinson
(Submitted )
Subscribe newsletter
Subscribe to our email and get updates right in your inbox.
THE TAVISTOCK mother of a teenager who took her own life is behind separate fundraising races spanning two continents in a bid to raise funds and awareness for youngsters with mental health issues.
Police community support officer Debbie Hollinson will run a 10k in Canada with her best friend, while colleagues and friends will take part in a second in Devon.
Mrs Hollinson and the two teams want to raise at least £10,000 following the death of her daughter Darcy (pictured) nearly a year ago. The money will go to Papyrus, a charity which supports young people with mental health issues.
'So far we have got over £6,000, and we'd love to beat the target, but it's not just about the money,' said Mrs Hollinson.
'We are doing it because we want to raise awareness of mental health issues, especially among young people, in the hope that we can help shine a light of hope for those struggling and save others from the devastating impact of suicide.'
Mrs Hollinson is running her 10k with her Canadian best friend Ellie who supported her after Darcy, 17, took her own life almost a year ago.
She said: 'Ellie and I met overseas more than 30 years ago. We lived together in London before she returned to Canada to raise her family. When Darcy died, she was one of the first people we told, and she was has supported us every day since.
'Ellie really wanted to find a way to channel her grief, so she decided to run to raise much-needed money for mental health services in her hometown. She created 'Team Darcy' drafting in friends and family to the team. Initially setting out to achieve a 5k, Team Darcy got so much support, raising in excess of $18,000 to date, that all the 'Team Darcy' members decided to push themselves further and run 10k.'
'I am joining Ellie in Canada and we all run together on May in Waterloo Ontario. Being together with so many people who have come together to form Team Darcy, is going to be an extremely emotional experience.'
'In addition to Team Darcy in Canada, there will be Team Darcy in the UK running simultaneously. Knowing how much support there is, gives me the strength and drives me and everyone involved to ensure that we raise as much awareness as we can, raise as much money as we can, to help our young struggling with their mental health.'
Mrs Hollinson has been distributing posters advertising the 10k run among shops and other outlets in Tavistock and has also announced the events widely on social media.
She said she believed that mental health problems were escalating because of the lockdown forced upon the UK two years ago at the start of the Covid-19 pandemic.
Experts have already warned that mental health issues are starting to emerge because people were forced to isolate themselves away from social contact.
Mrs Hollinson said her daughter, a student at Plymouth High School for Girls, had been suffering from mental health issues such as anxiety and depression for around two years in the period leading up to her death. She was also suffering from bulimia, a condition where those affected deliberately force themselves to vomit after eating, generally because of a fear of putting on weight.
Mrs Hollinson said: 'It is surely no coincidence that we had lockdown and then young people found it difficult to go back to school after being by themselves for so long.'
'Darcy found life very difficult, but not many people really knew how much she was struggling. We talked for hours on end (with her) about her struggles and why she felt the way she did, but she just didn't know.
'Darcy was beautiful, intelligent, kind, and loving. She was gorgeous and I can't believe she's not here any more.'
Mrs Hollinson said: 'A tribute page created on social media attracted comments with people of a similar age who said reading Darcy's story had made them realise that they are loved and that it had prevented them from taking the same path as Darcy. We are saving lives already. That's a powerful motivation for me.'
She said: 'Some Team Darcy posters have been accepted by outlets in Tavistock. I didn't manage to get around to all of them, so I would ask any business in the town who wants to display one in their windows to promote the fundraiser and spread awareness, that they can obtain one from the offices of the Tavistock Times in Brook Street. The posters have details on how people can access our fundraising page, via a QR code or by searching online bit.ly/teamdarcy.'
Any young person can contact the Papyrus charity via papyrus-org.uk.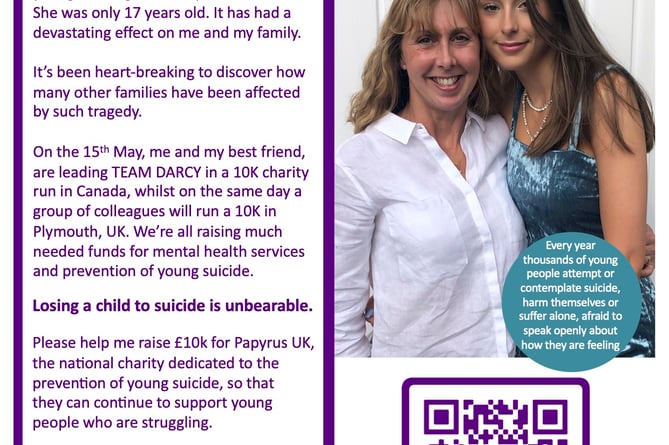 Team Darcy fundraisers
(Team Darcy ) (Team Darcy)
Comments
To leave a comment you need to create an account. |
All comments 0