Vegan Vicky shares her savvy tips for going meat and dairy free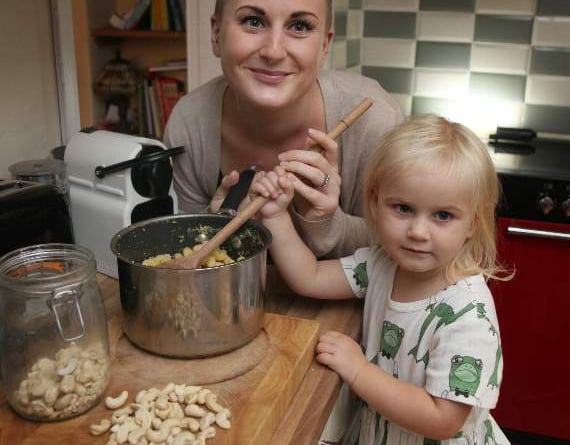 Vicky Busby and daughter Delilah cooking vegan. Picture by James Bird.
()
Subscribe newsletter
Subscribe to our email and get updates right in your inbox.
VICKY Busby became vegan five years ago, at the age of 28. The mum of one has been a keen cook all her life but grew up 'eating traditional food'. When her twin sister became vegan at the age of 25, Vicky started to question her own diet – and a few years later she decided to take the plunge herself.
Going vegan was, she admits, a big step, even though as an animal lover she was committed to the cause.
Not only does it mean avoiding meat and fish and animal by-products such as gelatine but also forgoing eggs and dairy products. Being vegan also means not wearing leather and avoiding products which have been tested on animals (Vicky looks out for the 'cruelty free' bunny logo).
For Vicky, becoming vegan was about 'for the animals first, then the planet then my health'.
She is particularly worried about the plight of dairy cows and says her commitment to being vegan only strengthened when she started breastfeeding her daughter Delilah, aged two and a half, as she felt empathy with cows in intensive systems.
She is raising Delilah vegan too — although her husband Tom does eat meat from a local farm and she says she has no problem cooking it for him. For his part, he also eats the vegan recipes she cooks.
It helps, perhaps, that Vicky, who lives at Gunnislake, is such a good cook.
With vegan becoming fashionable, there is a good deal more vegan convenience food readily available — and you can eat out vegan — but Vicky makes loads of things from scratch, and insists that being vegan does not hamper her culinary creativity one iota.
Among the culinary creations her (non-vegan) friends rave about is her vegan camembert. Then there's the vegetable satay with rice and crispy Asian tofu. And she makes a mean vegan version of Peking duck, with pancakes and hoisin sauce, using shop-bought mock duck (she likes the Linda McCartney brand).
One of her favourite meals is fajitas with the cashew nut version of soured cream.
Nuts indeed are one of the most versatile ingredients in Vicky's cooking. They are the secret ingredient in her vegan mozzarella.
She also bakes vegan cakes and cookies, substituting fat free spread for butter and dairy-free yoghurt in place of eggs.
Vicky is definitely an evangelist for the vegan cause. She believes it is right but she also believes that it is perfectly possible, both in terms of getting a balanced diet and enjoying tasty food.
'It is really easy now,' she said. 'Supermarkets are absolutely packed with vegan stuff. When I first went vegan you had to go to the health food shop and order things specially.
'It is really tasty. I just make normal food, regular food, but I make it vegan. I make camembert and mozzarella out of cashew nuts. It is never going to taste the same as cheese but after a while your tastes change and you don't miss it.'
For vegetarians, it is said to be the smell of bacon frying that can cause them to crack.
Vicky admits she 'loves bacon and cheese too' but she won't be cracking any time soon. Vegan is a cause for her as well as a culinary odyssey.
She says her husband is happy for her to raise Delilah vegan, after seeing that she was healthy and getting the proper nutrition.
'I make sure she has a varied diet, she eats a lot of vegetables, she also drinks cashew and almond milk. She and I take a multivitamin too, just for the vitamin D3.
'My husband is an omnivore and he eats meat and fish. We don't have any dairy in the house, though. We have soya milk in tea and coffee.
'When I first became vegan he fought against it, because people do fight against veganism. Over time though his tastes have changed and he's really supportive. 'When I was pregnant we talked about it and said we were going to raise our daughter vegan and because she gets everything she needs nutritionally he's fine with it. When she is old enough to understand, she can decide for herself.'
A typical day's meals for Vicky and her daughter might be cereals, and toast for breakfast, pasta, a salad, a wrap or a jacket potato for lunch and fajitas, macaroni cheese or a curry for dinner.
Their protein comes from nuts and pulses, tastiness is provided by olive oil, coconut milk, herbs and spices.
Vicky also cooks for others, swearing both by her favourite vegan recipe book and her own repertoire of recipes.
'If we have guests, everything I cook is vegan,' says. 'Everyone can eat vegan food and I think it shows people what is possible.'
She does make her husband what she describes as 'vegan junk food'.
'I think that is how I converted him actually!' she says. 'If I had started him off on falafel salad he would probably have hated it.
'I made him a vegan Big Mac meal last night, with meat-free burgers from the supermarket and Helmann's vegan mayonnaise. You can't tell the difference.'
Comments
To leave a comment you need to create an account. |
All comments 0