'We won't give up on station plans'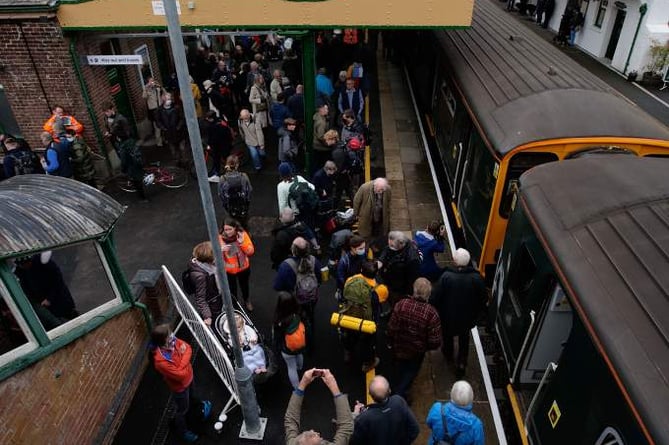 The first day of the new passenger service from Okehampton. Picture by Tim Gander.
Subscribe newsletter
Subscribe to our email and get updates right in your inbox.
A LEADING councillor has promised not to give up on plans to build Okehampton's second station after the town missed out on Government funding.
County transport official Damien Jones told West Devon Borough councillors that they had not received any cash from the Government's levelling-up fund for the project, seen as vital to the success of the newly-restored Okehampton to Exeter railway line.
Mr Jones, Devon County Council's head of transport coordination, said they would keep pushing for a share of the cash in future submissions.
And Cllr Kevin Ball, who represents Okehampton on West Devon Borough Council and who is on the executive of local rail group Okerail, said they were disappointed, but not surprised they had not received funding for the parkway scheme.
But he said applications for the levelling fund were oversubscribed and the Government had already spent more than £40m on restoring the Okehampton to Exeter line.
Cllr Ball added: 'What we have now got to do is to prove the new service by using it. Meanwhile, we will keep the fight going to get the parkway station at a future funding stage, since I am certain there will be more opportunities.'
The Government handed the Okehampton to Exeter link - dubbed the Dartmoor Line - just over £40m from its fund for restoring railways lost to communities during the 1960s and 70s.
But Mr Jones, who said survey work was already going ahead, said despite a joint submission with West Devon Borough councillors, the parkway scheme had not received any funding.
He said: 'We are disappointed, but we will keep pushing because it is a very important project. We have an outline business case sat ready for future submissions, so I am sure there will be other funding opportunities we can bid for.'
The parkway station plan would, said Mr Jones, enable rail services to be more easily accessed from areas such as Torridge and north Cornwall. It would also be easier for drivers to get to from the A30 from such areas as Tavistock without motorists having to use the town centre..
He said the county council had already committed £130,000 towards the project and Network Rail were carrying out survey work on the site, but he had better news over the prospects for the reopening of the Tavistock to Plymouth line following the county council receiving £50,000 towards a business case for the project.
He said he believed that grant would move the scheme further up the Department for Transport (DfT) priority list for reopening.
Mr Jones said preparatory work had been carried out by Network Rail on signalling at Bere Alston, which has a rail link with Plymouth and Gunnislake in advance of the return to trains to Tavistock.
Mr Jones said: 'It's the first stage in the journey. There are hundreds of projects (around the UK) on the short list, but we can move this forward. There is quite a lot of work which has been done already and (our project) has got the potential to leapfrog other schemes.
'If we can get a business case, we know a number of DfT officers are keen on this project and we could draw down more development funding to get the scheme moving forward.'
Comments
To leave a comment you need to create an account. |
All comments 0